MLB: Max Scherzer stars as Detroit Tigers shut out Boston
Max Scherzer tossed six shutout innings as the Detroit Tigers edged out defending champions Boston 1-0.
Last Updated: 17/05/14 8:21am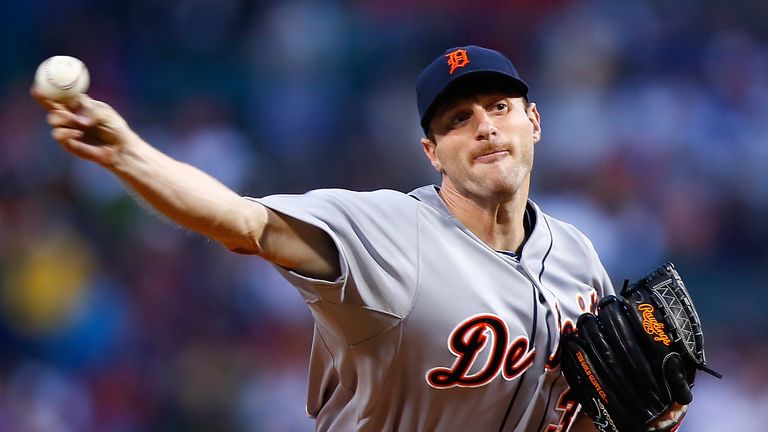 Torii Hunter's RBI single in the first proved decisive before Scherzer took centre stage, allowing just three hits and striking out seven.
It was a second defeat in a row for Boston and they fall further behind American League East leaders Baltimore, who eased past the Kansas City Royals 4-0.
Chris Tillman enjoyed the first shutout of his career for the Orioles while Nelson Cruz drove in two runs.
The Los Angeles Dodgers were the biggest winners of the night in the National League, routing the Arizona Diamondbacks 7-0
Zack Greinke (7-1) was the star of the show for the Dodgers, striking out six in eight innings and adding an RBI double. Yasiel Puig and Scott Van Slyke also smashed home runs in a one-sided affair.
St Louis made it three wins on the bounce, out-muscling the Atlanta Braves 5-2.
Lance Lynn allowed two runs across seven innings for the Cardinals and Allen Craig had two runs and an RBI single.
The Milwaukee Brewers continue to lead St Louis in the NL Central following a 4-3 victory over the Chicago Cubs, but West Division leaders the San Francisco Giants fell 7-5 against the Miami Marlins.
The Philadelphia Phillies slumped to their fourth straight loss, beaten 3-0 by the Cincinnati Reds, the Washington Nationals saw off the New York Mets 5-2 and the Colorado Rockies were 3-1 winners over the San Diego Padres.
Josh Reddick homered twice and drove in a career-high six runs to help steer AL West leaders the Oakland Athletics to an emphatic 11-1 victory over the Cleveland Indians, while the Chicago White Sox were also on-song in a 7-2 rout of the Houston Astros.
The Tampa Bay Rays shut out the Los Angeles Angels in a 3-0 win, the Toronto Blue Jays beat the Texas Rangers 2-0 and the Minnesota Twins edged a tight contest against the Seattle Mariners 5-4.
Inclement weather forced the postponement of the game between the Pittsburgh Pirates and the New York Yankees.