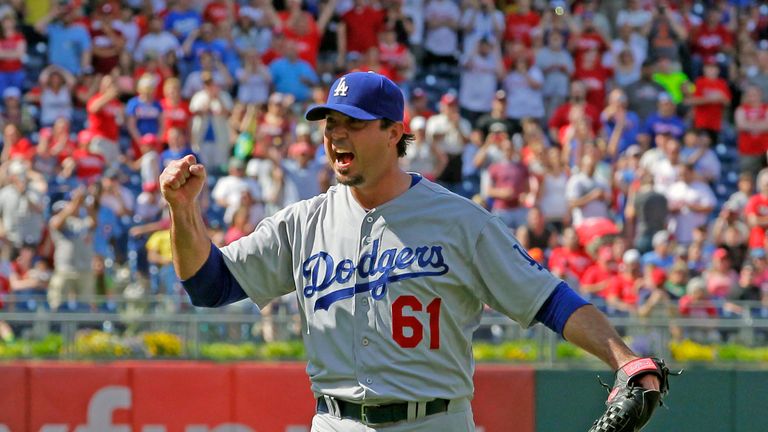 Josh Beckett threw the first no-hitter of his career as Los Angeles Dodgers claimed a 6-0 win over the Philadelphia Phillies at Citizens Bank Park.
Beckett struck out six and walked only three to become the first Dodgers pitcher to claim a no-hitter for the Dodgers since September 17, 1996, when Hideo Nomo did so in a 9-0 win at Colorado. It was the first no-hitter of the 2014 season.
Elsewhere, Tampa Bay Rays claimed a clean sweep over Boston Red Sox as they took a 8-5 win on Sunday, while Adam Wainwright tied a career high with 12 strike outs and eight shutout innings as St Louis Cardinals beat Cincinnati Reds 4-0.
The Toronto Blue Jays defeated Oakland Athletics 3-1 to complete a sweep while Texas Rangers thrashed Detroit Tigers 12-4, Arizona Diamondbacks beat New York Mets 2-1 and Milwaukee Brewers beat Miami Marlins 7-1.
In the other games, Baltimore Orioles beat Cleveland Indians 4-2, Washington Nationals ended their losing streak with a 5-2 win over Pittsburgh Pirates and New York Yankees saw off Chicago White Sox 7-1.
Chris Iannetta hit the game-winner, a solo shot in the eighth, as Los Angeles Angels edged past Kansas City Royals 4-3 while San Francisco Giants beat Minnesota Twins 8-1, San Diego Padres defeated Chicago Cubs 4-3, Houston Astros took a 4-1 win over Seattle Mariners and Atlanta Braves shut out Colorado Rockies 7-0.