Guide to the Hockey World Cup
All you need to know about 2014 Hockey World Cup - which is exclusively live on Sky Sports.
Last Updated: 29/05/14 6:19pm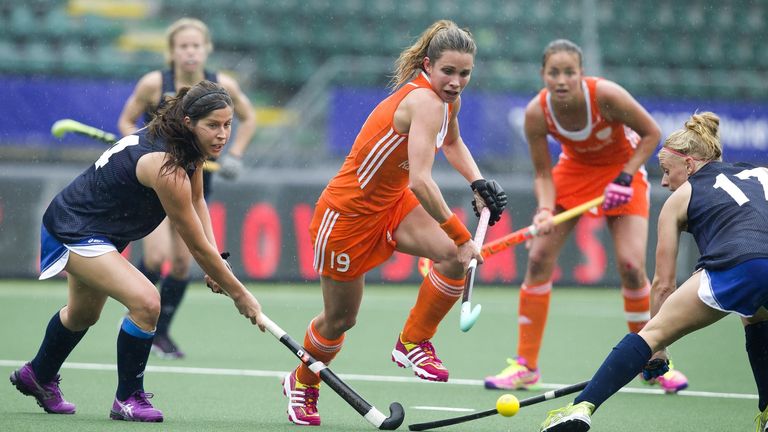 WHERE & WHEN
Since 1982 the tournament has been held every four years and this time the world's best descend on The Hague in the Netherlands.
The Hockey Park, including two stadiums Kyocera and GreenFields, will host all of the 76 games. This is only the second time that the men's and women's tournaments have been held at the same time and venue.
The games start on Saturday 31st May with the finals taking place across the weekend of the 14th and 15th of June. You can see every game live on Sky Sports with our dedicated team including host Natalie Pinkham - for more information and television schedule click here.
WHO
The men's and women's tournaments are split in to two pools of six.
Australia are ranked No.1 in the world in the men's game and are the 2010 World Cup holders. Germany and the Netherlands are ranked third and fourth with England the fourth best in the world.
MEN POOL A
Australia, Belgium, England, Malaysia, Spain and India.
MEN POOL B
Netherlands, Germany, New Zealand, Korea, Argentina and South Africa.
Argentina are ranked second and won the cup from top seed the Netherlands in 2010, with third-ranked England beating Germany to third spot. Australia and New Zealand aren't many points behind England in fourth and fifth in the world's best.
WOMEN POOL A
Australia, Netherlands, New Zealand, Korea, Japan and Belgium.
WOMEN POOL B
England, Argentina, Germany, China, USA and South Africa.
FIXTURES
Pool teams play each other once. The winner of the Pool A will play the runner-up of Pool B and vice versa in the semi-finals.
Remaining teams play-off for final positions, for example, sixth place in both groups will play to determine who finished 11th and 12th respectively.
GAMES
- Each game is made up of two 35 minute halves with a ten minute interval at half-time.
- Teams can make as many substitutions as they wish but not during penalty corners or pending video referral decisions.
- If scores are level at full-time in knock-out stage games outcome will be decided by a penalty shoot-out.
Sky Sports 3's live coverage of the Hockey World Cup starts this weekend with England's men taking on Spain from 4pm on Saturday before England women's first match against the United States from 11:30am on Sunday.