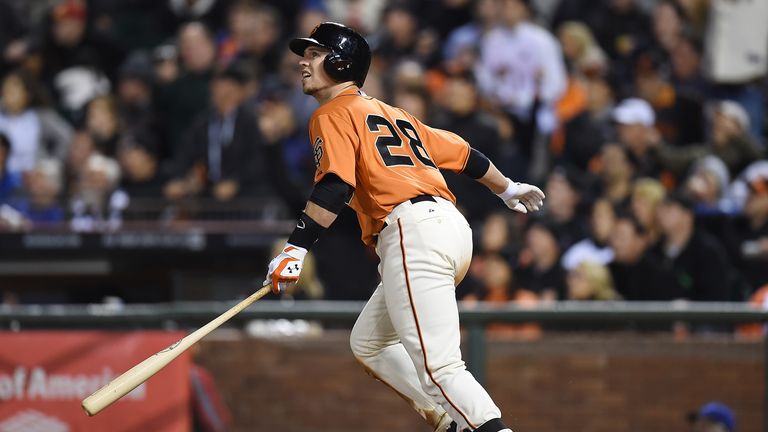 San Francisco Giants became the first side in Major League Baseball to reach 40 wins this season as Buster Posey produced the heroics in a 4-2 victory over New York Mets.
The game was up for grabs heading into the bottom of the eighth inning in which Posey hit a two-run homer, just as Daniel Murphy had done for the Mets in the previous inning, to put the Giants decisively in front.
In Chicago, the Cubs and Miami Marlins went to a 13th inning. Anthony Rizzo took decisive action by cracking a walk-off two-run homer to earn a 5-3 win, a fourth success in a row for the Cubs.
Washington Nationals also posted a fourth straight win, with Anthony Rendon's two-run homer spurring them to a 6-0 victory in San Diego over the off-form Padres.
It was another grim night for Colorado Rockies, who slumped to an eighth successive loss, this time 7-2 in front of their own supporters against Los Angeles Dodgers. Dee Gordon tripled twice and singled while driving in three runs.
Cincinnati were also embarrassed by their visitors, as Philadelphia Phillies halted a six-game losing run with an 8-0 victory at Great American Ball Park.
Elsewhere in the National League, Atlanta Braves were 5-2 winners over Arizona Diamondbacks, and Pittsburgh Pirates pummelled Central Division leaders Milwaukee Brewers 15-5, with Andrew McCutchen and Jordy Mercer both going deep.
American League
In the American League, Oakland Athletics remain the standard setters in the West, eking out a 4-3 win over Baltimore Orioles after 11 innings, with Stephen Vogt singling in the go-ahead run.
Kole Calhoun and Albert Pujols homered for Los Angeles Angels in an 8-4 win over Chicago White Sox, while Houston Astros edged out the Minnesota Twins 5-4, and Texas Rangers halted a six-game winning streak by Cleveland Indians, taking the honours 6-4 in their Arlington tussle.
New York Yankees were 4-2 winners over the Royals in Kansas City, and Tampa Bay Rays finally banished their losing ways after 10 games by blanking Seattle Mariners 4-0.
Home runs from Ian Kinsler, Torii Hunter and Victor Martinez steered Detroit Tigers to a 6-2 success against Boston Red Sox, as another losing run - five games - was also condemned to the past.
Toronto Blue Jays prevailed in the inter-league game, as homers from Jose Bautista and Brett Lawrie set up a 3-1 win over St Louis Cardinals, a sixth on the bounce for the Canadian outfit who head the AL East.