MLB: San Francisco Giants continue winning run; Boston Red Sox now lost eight in a row
Last Updated: 08/06/14 10:03am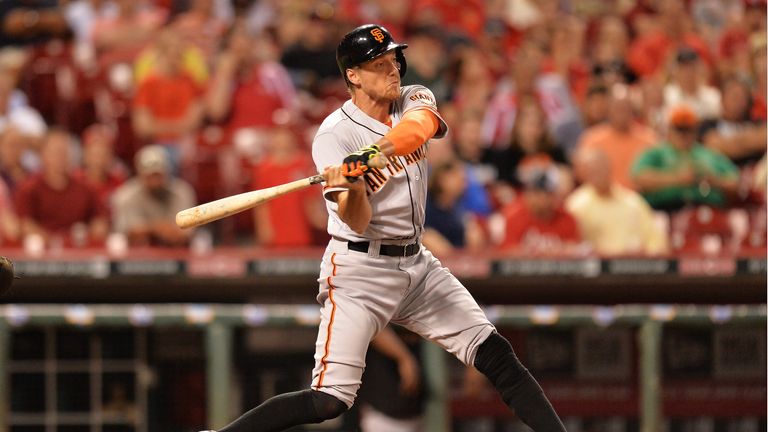 The in-form San Francisco Giants left it late before to clinch a 5-4 win over the New York Mets in Saturday's MLB action.
Michael Morse hit a single to score Hunter Pence for the winning run, as the Giants came from 4-3 behind heading into the bottom of the ninth inning.
The result gave the Giants, who were World Series champions in 2012 but struggled last season, posting a losing record, their 41st victory of the campaign and their fourth in a row.
Mike Trout's grand slam transformed a game that was going the way of the Chicago White Sox and spurred the Los Angeles Angels to a 6-5 win in Anaheim.
Chicago were 5-0 ahead going into the bottom of the eighth, and after Chris Iannetta singled home Erick Aybar Trout came up trumps with the bases loaded, bringing the teams level in stunning fashion.
Josh Hamilton scored to nudge the Angels ahead, and pitcher Ernesto Frieri finished the job in the ninth inning to complete an impressive comeback.
Slumping Sox
Meanwhile, the Boston Red Sox slumped to a fifth straight defeat as they went down 8-6 in Detroit against the Tigers, with Eugenio Suarez and Nick Castellanos both homering for the eventual winners.
However the Colorado Rockies ended an eight-game losing streak by edging the Los Angeles Dodgers 5-4 in a game that went to a 10th inning, Brandon Barnes tripling to allow Justin Morneau to score the winning run.
The Toronto Blue Jays saw their six-game winning run come to a shuddeing halt as they were beaten 5-0 by the St Louis Cardinals, while the Houston Astros were also blanked, falling 8-0 to the Minnesota Twins.
The Cleveland Indians beat the Texas Rangers 8-3 on the back of home runs from Yan Gomes and Carlos Santana.
The Milwaukee Brewers toppled the Pittsburgh Pirates by a 9-3 margin but things were much tighter in the San Diego Padres' 4-3 victory against the Washington Nationals, Cameron Maybin singling in the winning run in the 11th inning.
The Seattle Mariners beat the Tampa Bay Rays 7-4, while Junior Lake cracked a pair of home runs as the Chicago Cubs won a fifth straight game, overcoming the Miami Marlins 5-2.
The Cincinnati Reds were 6-5 winners against the Philadelphia Phillies and the Arizona Diamondbacks needed 11 innings to claim a 4-3 success over the Atlanta Braves.