UFC: Conor McGregor beats Diego Brandao in the opening round in Dublin
Last Updated: 23/07/14 4:48pm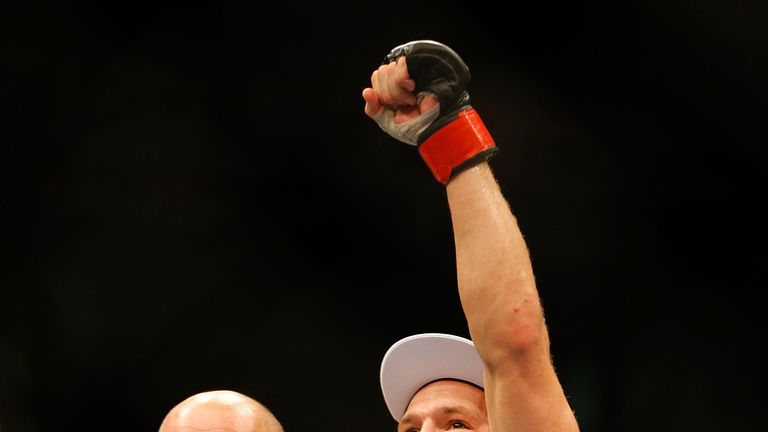 'Notorious' Conor McGregor wiped out Diego Brandao before his vociferous home support had a chance to take their seats before prophesising that "football stadiums and world titles" were his future.
Fight Night in Dublin revolved around one star name as much as any modern UFC event and tattooed poster boy McGregor continued his predicted rise to the stars by dispatching Brandao inside a round.
An Irish crowd who seemed not to have returned from a night on the town with UFC brass the night prior had been treated to a successful return to their nation after a five-year absence with a spate of home wins and McGregor topped it off.
Opening up with a plethora of charismatic kicking techniques, McGregor rode out Brandao's attempts to submit him before taking over. Swift and long boxing combinations visibly wilted the Brazilian who felt the heat.
McGregor finished the job on the ground at the end of the opening stanza before taking the microphone to whip up his compatriots into a frenzy with bold promises about his featherweight future.
Prior to the headline act, McGregor's training partner under John Kavanagh's tutelage, Gunnar Nelson - an adopted Irishman on account of the fans' reception - choked out Zak Cummings without his trademark hollow stare leaving his face.
Perfect foil
An Icelander with a truly icy demeanour, he provided the perfect foil for the brasher McGregor to steal the show after the event's other Irish fighters all emerged victorious.
Norman Parke from north of the border thrashed Naoyuki Kotani and Neil Seery – part-time fighter and full-time factory worker - earned a maiden UFC victory over Phil Harris. Patrick Holohan opened the show by beating Josh Sampo.
Cathal Pendred, in the fight of the night, seemed to be knocked out and then choked out during a tumultuous opening round against Mike King but remarkably rallied aided by a Dublin crowd finding its voice. Pendred came back to submit King in the second.
Elsewhere, Londoner Brad Pickett was outworked and lost on points to 'Uncle Creepy' Ian McCall while hulking Swede Ilir Latifi bludgeoned Chris Dempsey. Nikita Krylov and Trevor Smith beat Cody Donovan and Tor Troeng respectively.
But the night belonged to one man as 26-year-old McGregor registered his third UFC win and maintained the ascent into legitimate contendership while flying the flag for his sport in his country.