UFC: Johny Hendricks discusses Robbie Lawler's clash with Matt Brown in San Jose
Could Brown's infamous aggression could be his undoing?
Last Updated: 23/07/14 4:47pm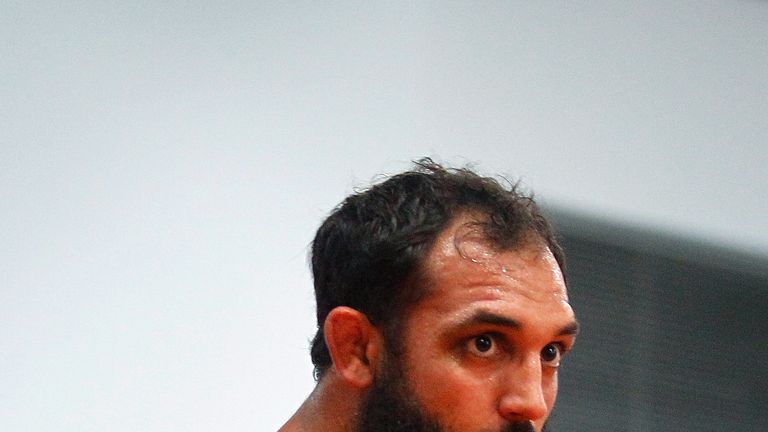 Welterweight champion Johny Hendricks has warned that Matt Brown will have to tame his trademark willingness to violently brawl if he is to defeat Robbie Lawler this weekend.
The winner of the clash in San Jose, California is likely to be Hendricks next challenger but the champion doesn't feel it would be wise for Brown to continue on the warpath he has created against the dangerous puncher Lawler.
Hendricks told Sky Sports: "Matt Brown is the guy who has got to keep his distance, use a lot of leg kicks, a lot of body kicks, a lot of his long-range. If he can do those things, keeping that distance, Brown has a good chance to win this fight.
"On the other side, Robbie Lawler is very talented at getting guys to fight his fight. And he's always got that one-punch knock-out power.
"He has to get Matt Brown – and Brown likes to do this sometimes – to close the distance and get into that brawling situation. Brown can't do that against Robbie Lawler.
"Brown has to keep his distance and Lawler has to close that distance. Lawler has to get in there and make his punches count when he does, and if he does that then I believe he has a chance to win."
"Don't get me wrong, Brown could finish Lawler or do something to keep him at bay but his best game-plan has to be to keep him at a distance."
Johny Hendricks
Ohio's Brown, 33, has reached his veteran career's best form with seven consecutive wins, six by stoppage, largely on account of his unmatched toughness and eagerness to trade blows.
Hendricks, however, feels this is a risky strategy against Californian Lawler, 32, who is known for his bludgeoning strikes and is finally fulfilling the prodigious potential he displayed as a youth.
"Realistically, it's going to be hard for Matt Brown to change too much of his style," Hendricks continued.
"The reason why I say that is because it's always a good theory – people say 'he needs to do this, or he needs to change his way' – but as soon as you get hit you go back to what you know.
"That's where Matt Brown can't do that.
"Don't get me wrong, Brown could finish Lawler or do something to keep him at bay but his best game-plan has to be to keep him at a distance. Use those front kicks and long punches."
Striving
Hendricks is currently nursing an injured bicep, worsened when he defeated Lawler in a thrilling 25-minute marathon for the vacant championship in March, but he insists he will be return stronger when he rematches Lawler or meets Brown.
"My focus is not who I'm fighting – it's getting myself healed up, getting better," he said.
"There are days when it's sore but I'm trying to load it, that's what the doctor wants me to do. I've got five more weeks left before the doctor clears me. I'm pushing myself and getting into shape."
Ahead of his first title defence, likely to be against Saturday's winner, Hendricks' eye is on the bigger picture.
"I don't just want one belt, I want multiple belts. It's not about becoming a UFC champion, it's about trying to start a new legacy for the welterweight division.
"I've never had that perfect fight and I want to keep that goal. I'm striving for the perfect fight."