Diving: Team GB star Sarah Barrow prepares for Commonwealth Games with an eventful trip to China
Last Updated: 24/07/14 11:33am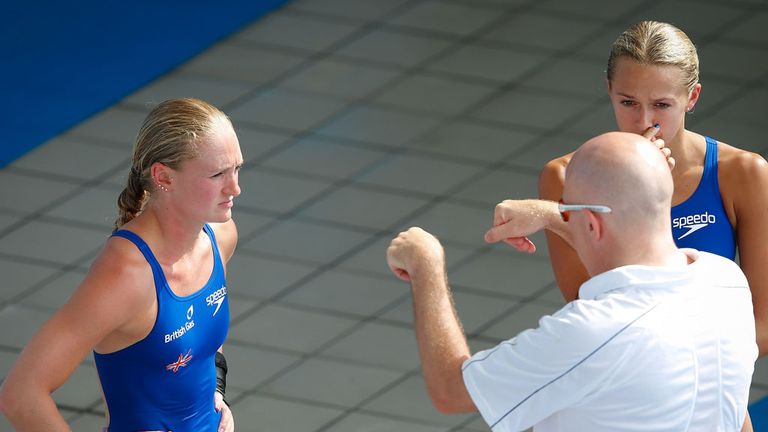 In the latest instalment of Sarah Barrow's blog she heads to the Far East to prepare for the Commonwealth Games.
I have just come back from a 19 day trip to China to prepare for the biggest competition of the season and compete at the FINA World Cup in Shanghai.
The team set off from London Heathrow for the 24-hour journey to Xian and with no flight entertainment there wasn't anything much better to do than sleep. This was my fourth trip to Xian for a pre-competition training camp so everything was all too familiar. The Shangri - La hotel is great with part western food, part Chinese food, the diving pool is like a sauna. The Chinese have the temperature so hot compared to the UK pools, I'm guessing they have no trouble with heating costs! There wasn't a lot to do while we stayed in Xian, coffee or ice cream trips were the highlight of the week, but we were there for training and everything went to plan.
I find food in China is always a struggle. I always get "food must be so good in China" or "you must love having Chinese everyday". It is nothing like a Chinese takeaway, believe me... One day in Xian a whole pig was served, battered. I admit food has become a lot better over the years of travelling to China, the first time I went I was served whole fried pigeon and battered locust! I even asked the waiter at one point what he was serving me, he looked and just shrugged. I was a little concerned. Knowing how bad the food is, I get by with protein bars, recovery and milk shakes, cereal bars and I always bring some chocolate.
We shared our training times with the Xian diving club, little children from the age of four diving with 10-year-olds embarrassingly sometimes diving better than me. China is a completely different culture when it comes to sport and diving is one of their best.
The team flew to Shanghai after spending a week in Xian. The diving pool in Shanghai has to be one of the best, it is outdoors with a sheltered curve running around the diving boards. To me it is a 'friendly' pool, easy to dive in comfortably and a great place to run a world event.
Preparing to compete, I have never dived in so many different weather conditions. In the space of three days we had blazing sun, wind, clouds, rain, heavy downpours and in one training session we trained in darkness with floodlights, all with high humidity. At least we were prepared for any situation. It was different training in rain, we had one of our best sessions that day. It didn't rain on competition day, instead it was 32 degrees with 96% humidity!
The women on 10m had it tough this year. Our synchro prelim and final was on Thursday and the individual prelim, semi-final and final on Friday. With warm-up dives before, by Friday night I had to fight for some energy, even the Chinese divers didn't put in their best performances. I woke up at 6.30am, trained at 8am, competed in prelims with 30 divers, 10 minutes later competed in the semi-finals with 18 divers and I finished competing in the final with 12 divers at 9pm! I placed 11th in the individual final, disappointed that I didn't dive nowhere near as well as I can and I dropped five places from the semi-final. The longest competition day I have competed in.
The previous day, our synchro prelim competition was average for a warm-up, finishing 6th. I felt great going into the synchro final with Tonia. We put in our best third dive we had done since the Mexico World Series and our best last dive for a long time, coming out with a personal best and a British record.
Our coach Andy Banks is great at putting us in a fighting mood to put all of our dives together. We scored 328 points ending up in 5th place. It was such a strong competition and the top four teams after the Chinese will be fighting for a Commonwealth medal. There is still more in there which is exciting. We were slightly down on our first two easier dives then normal and we have done our fourth dive better in previous competitions. I was happy with our performance and it is satisfying to walk away from a competition with a good feeling.
It was incredible to see Jack Laugher win a bronze medal in the Men's 3m. A great result for him but also his coach Ady. Each coach does such a good job with each of their own athletes and it's often not shown in the media how much influence they have on a diver's performance. British diving has some of the most technical and experienced coaches in the world and it is why our team are getting better and better results.
Next up is the Commonwealth Games, just two days at home fighting the jet lag and the stiffness from flying 12 hours in cattle class. It will be my third Commonwealth Games and it's going to be just as tough as the World Cup! I am competing in both 10m synchro and 10m individual. Let's go!
I write my blogs when I have finished competing and normally as we are travelling back home. I finished writing on the plane back to London and we still had eight hours to go. I got up, talked to Lance then stood by the exit talking to some of the team, laughing, joking until air hostesses started running around grabbing things from cupboards. We heard that the pilot had to land the plane quickly, at one point we were heading for the river! I wasn't nervous or scared. The air hostesses were so nice and did their job professionally so thank you to them.
We landed safely in some army base in Siberia and were sat on the runway for a few hours, fed sandwiches and ice cream then we were moved to somewhere that represents possibly a terminal? Took a coach to a hotel where we have been for 15 hours now stuck in a tiny room with beds. We are still here ... With no luggage, slowing starting to worry about our preparation for the Commonwealth Games. Help.