Government should work with media to encourage more women's sport coverage and participation
By Emma Webb
Last Updated: 26/07/14 1:31pm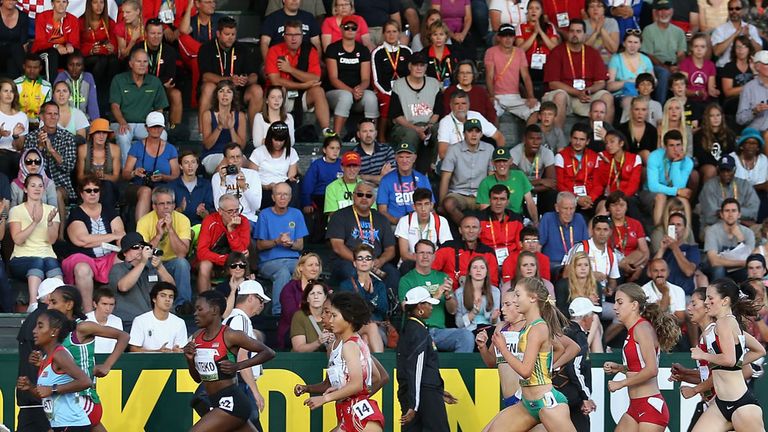 Women's participation in sport depends on co-operation between government and media, says the Women's Sport and Fitness Foundation's Radha Balani.
Balani told Sky Sports News that the potential for women in sport is enormous if legislation can align with education and broadcasters to make women's sport more 'normal'.
She said: "The recommendations [the report] raised to include things like a crossed-departmental strategy, to keep women's sport high on the agenda throughout government, will be one of those that we look forward to seeing as we go forward.
"If we can get all three parties working together to help sports create the sort of product that the media wants to cover, and in doing so, recognising that they have such a wonderful asset in women's sport that is largely untapped.
"If we can bring all parties around the table, I really do believe that we can create a really positive difference, so that we can create greater role models for women and girls, and make it more normal for women to see women playing sport."
The report also noetd that the Football Association and similar organisations had been encouraged to employ more women in positions of seniority, and Balani strongly believes that women can lead women to a more equal future.
Balani said: "We absolutely agree that more women at senior levels in sport will make a huge difference to the way that women and girls participate in sport in this country.
"We are working through our Trophy Women report and through our networks to increase the pipeline of women working in sports, but also to work with governing bodies to really open them up to the massive talent pool of women working within the industry and in business that can really contribute to the business of sport.
"We look forward to being part of that future."
The report claims the provision of sport in school is perceived to be more of a priority for boys than girls, adding that girls must be offered a wider range of sports to participate in.
It also concludes that a key factor affecting the number of females taking part in sport is bad experiences suffered by girls in PE lessons during school.
James Allen of the Sport and Recreation Alliance agrees that widening participation is a shared responsibility and calls on the debate for banning competitive sports in schools to end.
Speaking to Sky Sports News, he said: "What we'd quite like to scrap is the debate over whether competitive sport needs to be scrapped.
"What we need is a balance of competitive and non-competitive offers at a very early age. I'd suggest the best thing is to get young children physically active, physically literate and enjoying exercise.
"Competitive sport comes later for some people and we would never want to see that banned because you need an outlet for competitive people, and you need an outlet to allow talent to develop as well.
"It's not a case of banning one or the other – we need both."
Claire Wheeler, director of the Us Girls programme that provides activities for 14 - 25-year-olds, thinks that schools should allow girls to take ownership of their physical education and that will encourage their participation.
"Learning with the Us Girls programme has shown us that some girls have negative experiences of sport in schools," she said.  
"I think there's a lot we can learn from the report and from programmes like ours, about providing them with opportunities to choose what activities they would like to do and have some input into how the activities look or feel.
"We now need to put the report's recommendations and conclusions into action and that will be where we see the impact of the report out in the community and in schools."