MLB: Los Angeles Dodgers sweep Californian rivals San Francisco Giants
Last Updated: 28/07/14 4:55pm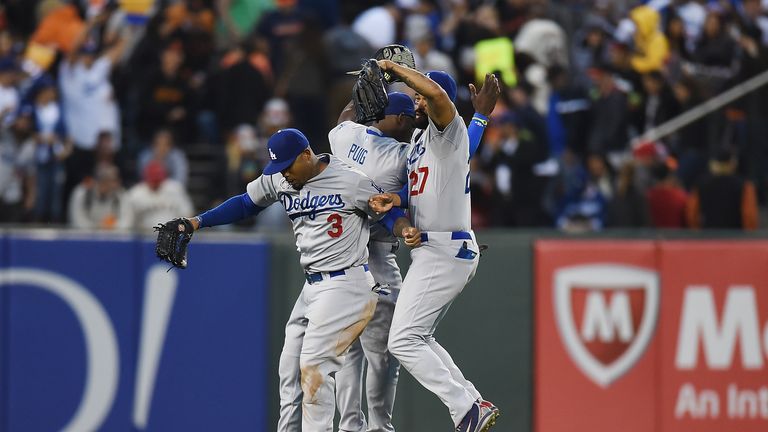 The Los Angeles Dodgers completed a series sweep of Californian rivals San Francisco to extend their NL Western Division lead to one and a half games.
The Dodgers' 4-3 victory at AT&T Park was their third straight win while the Giants, who handed ex-Boston Red Sox pitcher Jake Peavy his debut, were outscored 17-4 and lost for the 19th time in their last 25 home games.
Over at Tropicana Field, the Red Sox snapped a five-game losing streak as David Ortiz's three-run blast in the third proved enough to secure a 3-2 win over the Tampa Bay Rays.
Sunday's MLB results:
Braves 8 Padres 3
Reds 2 Nationals 4
Rockies 5 Pirates 7
Astros 2 Marlins 4
Royals 3 Indians 10
Brewers 0 Mets 2
Twins 4 White Sox 3
Yankees 4 Blue Jays 5
Phillies 4 Diamondbacks 2
Giants 3 Dodgers 4
Mariners 2 Orioles 3 (10)
Rays 2 Red Sox 3
Rangers 3 Athletics 9
Angels 2 Tigers 1
Cubs 0 Cardinals 1
Carlos Santana ensured Cleveland avoided a sweep against the Kansas City Royals as his two homers powered the Indians to a 10-3 victory, while Josh Harrison collected four hits as the Pittsburgh Pirates beat the Colorado Rockies 7-5 at Coors Field.
The Oakland Athletics scored five runs in the second as they beat the Texas Rangers 9-3, David Freese's go-ahead homer propelled the Angels to their third straight win over the Detroit Tigers - Los Angeles won 2-1 - and the New York Mets ran out 2-0 victors against the Milwaukee Brewers.
The Washington Nationals downed the Cincinnati Reds 4-2, the Atlanta Braves powered past the San Diego Padres to win 8-3 and the Baltimore Orioles inflicted a 3-2 defeat on the Seattle Mariners.
Matt Holliday's solo homer in the first was enough to earn the St Louis Cardinals a 1-0 victory over the Chicago Cubs and the Miami Marlins bested the Houston Astros 4-2 while the Minnesota Twins were beating the Chicago White Sox 4-3 at Target Field.
Elsewhere, the Philadelphia Phillies outscored the Arizona Diamondbacks 4-2 and the Toronto Blue Jays got the better of the New York Yankees, Dioner Navarro knocking in the go-ahead run in the ninth of a 5-4 victory.