MLB: Derek Jeter surpasses Carl Yastrzemski as Yankees fall to Rangers
Last Updated: 29/07/14 9:54am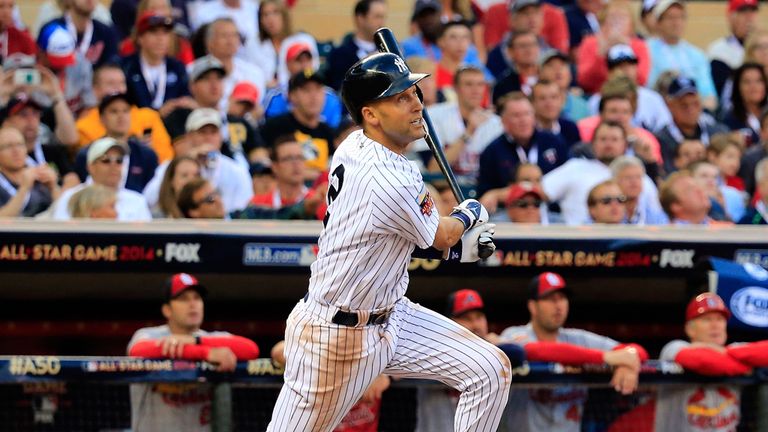 Derek Jeter moved clear in seventh place on the all-time hits list but could not prevent the New York Yankees from slipping to a 4-2 defeat at the hands of the Texas Rangers.
The 40-year-old collected his 3,420th career hit to move beyond Hall of Famer Carl Yastrzemski and he needs 11 more to pass his next target Honus Wagner. Pete Rose leads the way with an incredible 4,256 hits.
However, Jeter's milestone did not coincide with a Yankees victory as Texas snatched the spoils thanks to a four-run fifth.
Tuesday's MLB results:
Red Sox 1 Blue Jays 14
Rangers 4 Yankees 2
Astros 7 Athletics 3
Braves 2 Padres 0
Reds 1 Diamondbacks 2
Mets 7 Phillies 1
Marlins 7 Nationals 6
Cubs 4 Rockies 1
Giants 0 Pirates 5
Rays 2 Brewers 1
That was the Yankees' third successive loss and sees them lose more ground on American League East rivals the Toronto Blue Jays, who thrashed reigning World Series champions the Boston Red Sox 14-1 at Fenway.
The Red Sox embarrassed Toronto in front of their own fans by the exact scoreline a week ago but the Blue Jays, who are second behind Baltimore in the AL East, gained emphatic revenge thanks largely to a wild sixth which saw the visitors score nine.
Switch hitting
Switch-hitter Melky Cabrera hit home runs from both sides of the plate as well as driving in five, while Ryan Goins contributed four RBIs as Toronto - despite being without Adam Lind, Edwin Encarnacion and Brett Lawrie - claimed a stunning win.
Things are looking a lot closer at the top of the National League West division as leaders the Washington Nationals lost 7-6 to third-placed Miami while second-placed Atlanta beat San Diego 2-0.
Washington had looked to be cruising to victory as they led 6-0 heading into the seventh but the Marlins hit back in brilliant fashion to claim a fifth successive win.
The New York Mets, who are fourth in the NL West, also picked up a win as they comfortably saw off the last-placed Philadelphia Phillies 7-1.
Elsewhere, Arizona defeated Cincinnati 2-1, Tampa Bay downed Milwaukee by the same scoreline, the Chicago Cubs eased past the Colorado Rockies 4-1 while Houston and Pittsburgh were also victorious, beating Oakland 7-3 and San Francisco 5-0 respectively. The Giants have now lost five matches on the trot to fall further adrift of the LA Dodgers at the top of the NL West.