Triathlete Jodie Stimpson wins Sportswoman of the Month award for July
Last Updated: 08/08/14 3:44pm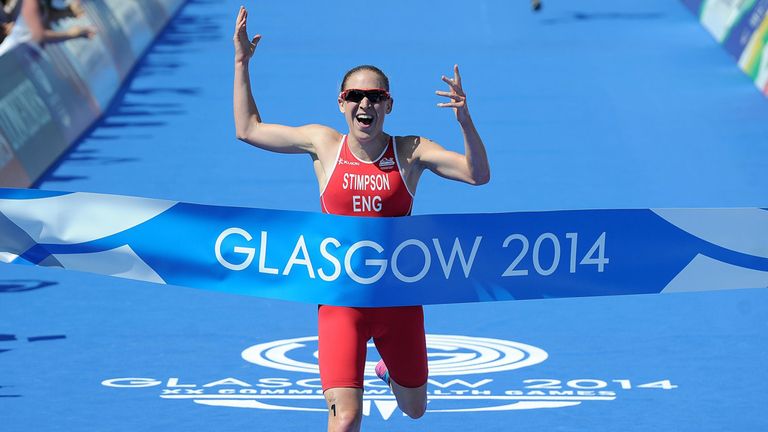 Triathlete Jodie Stimpson has spoken of her delight at winning double gold at the Commonwealth Games after she was named Sportswoman of the Month for July.
Stimpson earned 41% of the vote to finish ahead of 13-year-old Scottish swimmer Erraid Davies (28%) and English swim sensation Fran Halsall (15%).
Korean golfer Lydia Ko, Scottish Paralympic sprinter Libby Clegg and Dutch cyclist Marianne Vos were also in the running.
England's Stimpson had the distinction of winning the first gold medal at this summer's Glasgow Games when she stormed clear of Canada's Kirsten Sweetland to win the individual event.
Stimpson doubled her gold medal haul two days later when she was part of the victorious triathlon mixed relay team alongside Vicki Holland and Brownlee brothers, Alistair and Jonny but she revealed she had little time to enjoy her success.
"It is a massive achievement but I have got my head down training in France for the last two races (of the Triathlon season) so I couldn't really enjoy it too much," she told Sky Sports News.
"It was a fantastic team (the mixed relay) to be amongst and we all had medals in the individual races, so it was brilliant to go and get the golds in the relay."
The impact of Stimpson, Holland and the Brownlee brothers has raised the profile of triathlon and Stimpson is thrilled to have played a part in that.
"It's been fantastic to watch triathlon grow so much," she added.
"I did my first one when I was nine and to see how much more participation there is in triathlon is fantastic."