US National Championships: American Katie Ledecky breaks 400 meters freestyle record
Last Updated: 10/08/14 9:48am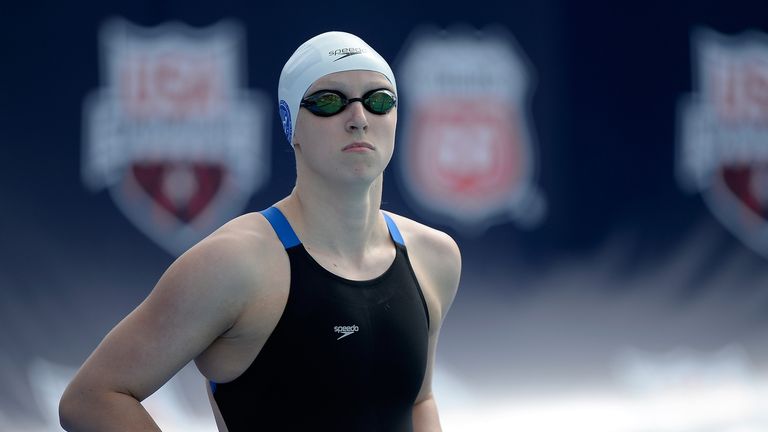 The 400 meters freestyle world record was broken by American teenager Katie Ledecky at the US National Championships in California on Saturday.
The 17-year-old clocked 3 minutes, 58.86 seconds to better the previous record of 3:59.15 held by Italy's Federica Pellegrini, which was set in 2009 before high-tech polyurethane swimsuits were banned.
Ledecky is the first American to hold the 400, 800 and 1,500m freestyle world records simultaneously since Janet Evans and remains grounded regarding his accomplishments.
"Honestly, I didn't think about it too much," said the 2012 Olympic 800m freestyle champion. "I just wanted to put together a good swim and go a best time. I did, so I'm happy."
Honestly, I didn't think about it too much. I just wanted to put together a good swim and go a best time. I did, so I'm happy.
Katie Ledecky
Ledecky, the reigning 400m world champion, came close to the world record with a time of 3:59.89 in the morning heats.
She went out hard in the final and was under record pace at halfway by more than a second when she turned at 1:57.72.
When the teenager touched at 300m more than 1.5 seconds ahead of Pellegrini's mark, a world record seemed almost a formality.
Slowed
She slowed over the next lap to hit 350m in 3:29.41, just .38 seconds ahead of world record pace, but it was enough of a cushion and she held on to touch the wall .29 faster than Pellegrini's mark.
Elsewhere, Michael Phelps struggled home in sixth in the 100m backstroke. He made a slow start and was never in contention as Olympic and world champion Matt Grevers won in 52.75, the third fastest time in the world this year.
On the comeback trail after coming out of retirement, Phelps was more than a second behind in 53.95 though given the event has never been one of his strongest, and he has never contested it at the Olympics, his performance was not a huge surprise.
"Whatever I really put my mind to, I know I can accomplish," he said. "I'm not going to use the excuse of taking off (nearly two years)."
In the most significant meet since Phelps launched his comeback in May, the 18-times Olympic champion finished seventh in the 100m freestyle on Wednesday and second in the 100m butterfly on Friday.
In the women's 100m backstroke, Missy Franklin clinched her fifth straight national title in 59.38, which ranks her third in the world this year. Her time was significantly slower than the 58.33 she recorded to win the event at the 2012 Olympics.
Michael McBroom edged Matt McLean to win the men's 400m freestyle in 3:47.19. Jessica Hardy and Micah Lawrence tied in the women's 100m breaststroke in 1:06.51, while Cody Miller won the men's race in 59.91.