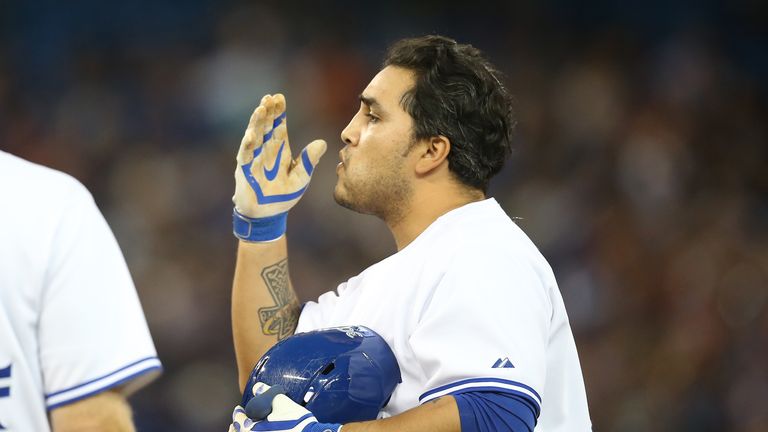 The Toronto Blue Jays emerged victorious after the longest game in their history, a 19-inning epic against the Detroit Tigers.
American League Central leaders Detroit led 5-0 after four innings, JD Martinez knocking in three of those runs.
Toronto's Dioner Navarro hit a two-run homer in the sixth inning and two more runs followed in the next before Jose Reyes scored Anthony Gose to prolong the game.
He could not have imagined it would take another 10 innings to settle the match, though, reliever Chad Jenkins pitching six scoreless frames before Jose Bautista singled in Munenori Kawasaki.
Toronto moved ahead of the New York Yankees - beaten 4-1 by the Cleveland Indians - into second place in the AL East and within five games of leaders the Baltimore Orioles, who lost 8-3 to the St Louis Cardinals for whom Peter Bourjos hit a three-run homer.
The Tigers' lead was cut to half a game as the Kansas City Royals beat the San Francisco Giants 7-4 behind two-run homers from Alex Gordon and Salvador Perez.
The AL West's top two both lost, the Oakland Raiders going down 6-1 to the Minnesota Twins as Josh Willingham hit a two-run homer and his fellow ex-Oakland man Kurt Suzuki also batted in two.
Closed the gap
Nearest pursuers the Los Angeles Angels were beaten 3-1 by the Boston Red Sox on recent signing Yoenis Cespedes' three-run long ball.
The Texas Rangers beat the Houston Astros 6-2, the Seattle Mariners won 4-2 against the Chicago White Sox and the Tampa Bay Rays went down 3-2 in 12 to the Chicago Cubs.
In the National League, the Atlanta Braves further closed the gap on Eastern Division leaders the Washington Nationals with a 3-1 win as the series between the sides continued.
Alex Wood struck out 12 Washington batters and Justin Upton hit a solo homer.
Atlanta also pulled clear of the chasing pack in the division as the Miami Marlins lost 7-2 to the Devin Mesoraco-inspired Cincinnati Reds and the New York Mets went down 7-6 to the Philadelphia Phillies.
Mesoraco drove in six runs, adding his third grand slam of the season in the fifth inning to a two-run homer in the first.
St Louis' win saw them gain ground in the NL Central as the Pittsburgh Pirates lost 8-2 to the San Diego Padres while leaders the Milwaukee Brewers were beaten 5-1 by the Los Angeles Dodgers.
The latter moved 4.5 games clear of San Francisco in the NL West as Clayton Kershaw pitched eight innings of one-run ball, produced an amazing fifth-inning double play and batted in a run in the eighth.
The Colorado Rockies beat the Arizona Diamondbacks 5-3 after 10 innings.