MLB: Kansas City Royals see eight-game winning run snapped by the Oakland Athletics
Last Updated: 13/08/14 7:57am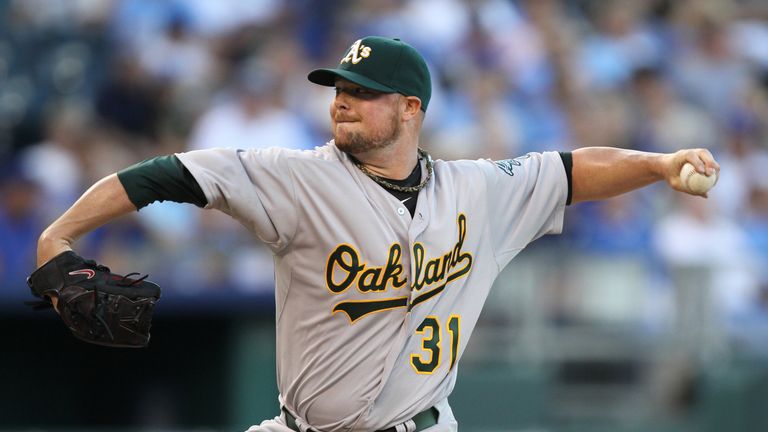 Jon Lester and Josh Donaldson combined to break the Kansas City Royals' eight-game winning streak as the Oakland Athletics claimed an 11-3 victory.
Pitcher Lester's impressive six innings, in which he allowed only three hits, and a pair of home runs from Donaldson did much of the damage for Oakland, who possess the best record in Major League Baseball this season, a 73-46 win-loss status.
One lucky fan got to take home two balls after snagging a pair of homers from Chris Carter in the Houston Astros' 10-4 home win over the Minnesota Twins.
The fan - named by the MLB as Tim Pinkard of Springfield, Virginia and reportedly attending his first ever game - was in the same spot as he grabbed both balls as they cleared the fence in the third and fifth innings.
The National League West-leading Los Angeles Dodgers overcame the Atlanta Braves 4-2, while NL East frontrunners the Washington Nationals trounced the New York Mets 7-1, aided by home runs from Bryce Harper, Anthony Rendon, Michael Taylor and Ian Desmond.
Called off
Gordon Beckham's two-out RBI single in the 10th inning gave the Chicago White Sox a 3-2 win over the San Francisco Giants, while the Chicago Cubs were 3-0 victors over the Milwaukee Brewers.
Elsewhere, the Pittsburgh Pirates toppled the Detroit Tigers 4-2, the Boston Red Sox edged out the Cincinnati Reds 3-2 after a two-run homer from Yoenis Cespedes in the eighth inning, and the Miami Marlins beat the St Louis Cardinals 3-0.
The Seattle Mariners earned a 6-3 win over the Toronto Blue Jays, the Texas Rangers beat the Tampa Bay Rays 3-2, the San Diego Padres enjoyed a 4-1 success over the Colorado Rockies and the Philadelphia Phillies suffered a 7-2 reverse to the Los Angeles Angels.
In Cleveland, heavy rain meant the clash between the Indians and the Arizona Diamondbacks was called off. They managed to get started, and the Indians led 1-0 in the top of the fourth, but it became apparent the game could not finish and it was rescheduled to form part of a Wednesday double-header.