MLB: Second career cycle for Michael Cuddyer inspires the Colorado Rockies
Last Updated: 18/08/14 7:42am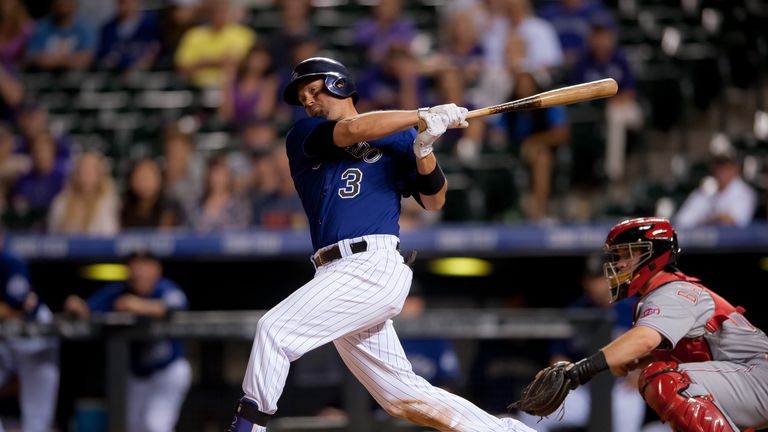 Michael Cuddyer hit for his second career cycle as the Colorado Rockies overcame the Cincinnati Reds 10-5 on Sunday to secure a sweep of their double-header at Coors Field.
Cuddyer's feat - the seventh cycle in franchise history - included a two-run double in the eighth inning and came on just his second game back following a left shoulder injury.
It was the Rockies' second comeback win of the day, with Drew Stubbs' walk-off three-run homer off JJ Hoover having rounded off a five-run ninth inning for a 10-9 Colorado victory.
Atlanta sealed a three-game sweep of Oakland, Justin Upton and Chris Johnson both going deep as the Braves ended Jon Lester's seven-game winning streak and inflicted a fifth straight loss on the Athletics.
Milwaukee also completed a series win, Jonathan Lucroy's two-run homer in the first inning and three-run double in the second helping the Brewers topple the National League West-leading Los Angeles Dodgers 7-2.
Sacrifice fly
A fast start propelled Chicago White Sox to a hard-fought 7-5 triumph over Toronto Blue Jays, Conor Gillaspie registering a first grand slam and Jordan Danks adding a two-run shot in a six-run first inning.
Alex Gordon, Salvador Perez and Josh Willingham all homered for the American League Central-leading Kansas City Royals in their 12-6 win over Minnesota Twins, and four RBI from Giancarlo Stanton spurred Miami Marlins to a 10-3 defeat of Arizona Diamondbacks.
Scott Hairston drove in Jayson Werth with a walk-off sacrifice fly in the 11th inning to give the NE East-leading Washington Nationals a 6-5 win - their sixth straight - and a series sweep of the slumping Pittsburgh Pirates.
Hiroki Kuroda allowed just two runs over 6 2/3 innings and Brett Gardner drove in two runs in New York Yankees' 4-2 success against Tampa Bay Rays, while Jose Altuve went 4-for-5 and posted his first career grand slam home run for Houston Astros, who hammered Boston Red Sox 8-1.
Elsewhere, Baltimore Orioles beat Cleveland Indians 4-1, Seattle Mariners thrashed Detroit Tigers 8-1, San Francisco Giants overcame Philadelphia Phillies 5-2, Chicago Cubs edged New York Mets 2-1, St Louis Cardinals squeezed past San Diego Padres 7-6 and Texas Rangers were 3-2 winners against Los Angeles Angels.