MLB: Stephen Strasburg helps Washington Nationals win their eighth straight
Last Updated: 20/08/14 12:00pm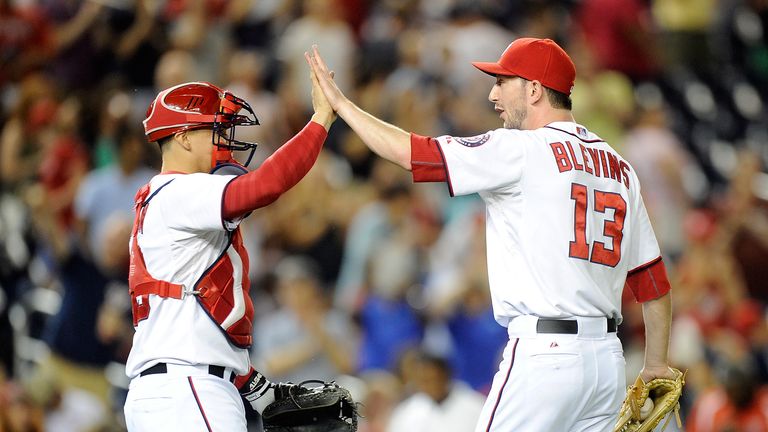 Stephen Strasburg came to the fore as the Washington Nationals extended their winning streak to eight matches by cruising past the Arizona Diamondbacks 8-1.
Strasburg allowed just one run and three hits over eight innings, while the Nationals killed off Arizona's challenge with a six-run third-inning that helped them continue their fantastic run.
The Milwaukee Brewers stretched their run to five consecutive wins as Jonathan Lucroy and Aramis Ramirez each hit doubles in a 6-1 triumph over the Toronto Blue Jays.
Pittsburgh's losing run continued to a season-high seven games as they went down 11-3 to the Atlanta Braves, for whom Justin Upton crunched his 24th homer of the season.
Tuesday's MLB results:
Red Sox 3 Angels 4
Cubs 2 Giants 0
White Sox 1 Orioles 5
Rockies 4 Royals 7
Dodgers 8 Padres 6
Marlins 4 Rangers 3
Brewers 6 Blue Jays 1
Twins 5 Indians 7
Yankees 4 Astros 7
Athletics 6 Mets 2
Phillies 2 Mariners 5
Pirates 3 Braves 11
Cardinals 5 Reds 4
Rays 6 Tigers 8
Nationals 8 Diamondbacks 1
Anthony Rizzo clobbered a two-run home run to lift the Chicago Cubs to a 2-0 victory over San Francisco in a game that was abandoned midway through the fifth inning due to heavy rain at Wrigley Field.
Extra innings
Victor Martinez's bases-loaded walk in the 11th inning helped the Detroit Tigers take out the Tampa Bay Rays 8-6.
A go-ahead three-run triple from Coco Crisp was the highlight as Oakland snapped a five-game buzz by beating the New York Mets 6-2.
JJ Hoover's pitch struck Jon Jay with the bases loaded to hand the St Louis Cardinals a 5-4 walk-off win over the Cincinnati Reds and eight scoreless innings from Hisashi Iwakuma helped Seattle shoot down Philadelphia 5-2.
The Los Angeles Dodgers ended a three-game losing streak by beating the San Diego Padres 8-6, the Kansas City Royals claimed a 22nd win from their last 27 matches by cruising past the Colorado Rockies 7-4, while the Cleveland Indians overturned a 5-0 deficit to edge out the Minnesota Twins 7-5.
The Baltimore Orioles brushed off the Chicago White Sox 5-1, the Miami Marlins squeaked past the Texas Rangers 4-3 and Chris Carter's 30th dinger helped the Houston Astros to a 7-4 victory over the New York Yankees.