MLB: Washington Nationals win tenth straight after toppling Arizona Diamondbacks
Last Updated: 22/08/14 9:51am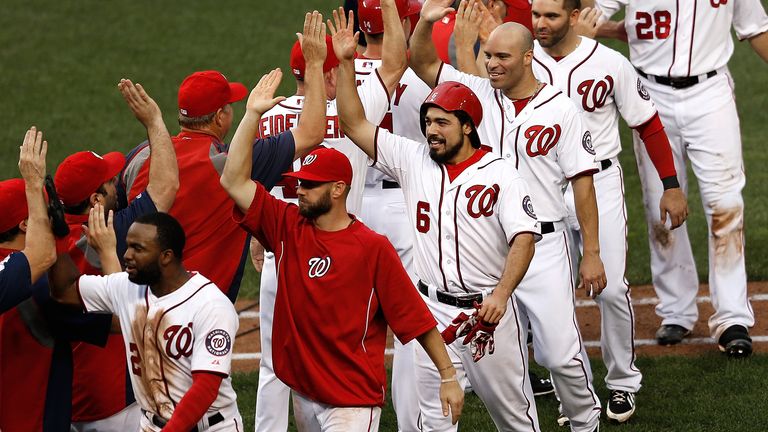 Washington Nationals won a 10th successive game on Thursday as they saw off Arizona Diamondbacks 1-0.
It was their fifth walk-off victory in six games too, given to them by a Jordan Pacheco error in the ninth.
New York Yankees moved to within four of the wildcard as Brandon McCarthy threw a four-hit shut-out and Chase Headley recorded a two-run double in a 3-0 victory over Houston Astros.
Thursday's MLB results:
Red Sox 0 Angels 2
Cubs 3 Giants 5
Cubs 2 Giants 1
Reds 0 Braves 8
Dodgers 2 Padres 1
Twins 4 Indians 1
Yankees 3 Astros 0
Bay Rays 1 Tigers
Nationals 1 Diamondbacks 0
Kenny Vargas hit a home run in the fourth to end Minnesota Twins' 20-inning scoreless run as part of a 4-1 win over Cleveland Indians, with Trevor Plouffe also scoring a double in the sixth.
Shut out
Alex Cobb produced seven scoreless innings as Tampa Bay beat Detroit Tigers 1-0, while Joe Panik's run after the restart of San Francisco Giants' clash with Chicago Cubs was not enough to stop them losing 2-1.
They got their revenge immediately after, though, running out 5-3 winners.
Atlanta Braves made it six wins out of seven, with a five-run third helping them rout Cincinnati Reds 8-0.
Elsewhere, Los Angeles Angels beat Boston Red Sox 2-0 and Justin Turner's two-run homer in the eighth got Los Angeles Dodgers a 2-1 win over San Diego Padres.