UFC Fight Night: Michael Bisping records brutal stoppage against Cung Le in Macao
Last Updated: 23/08/14 7:44pm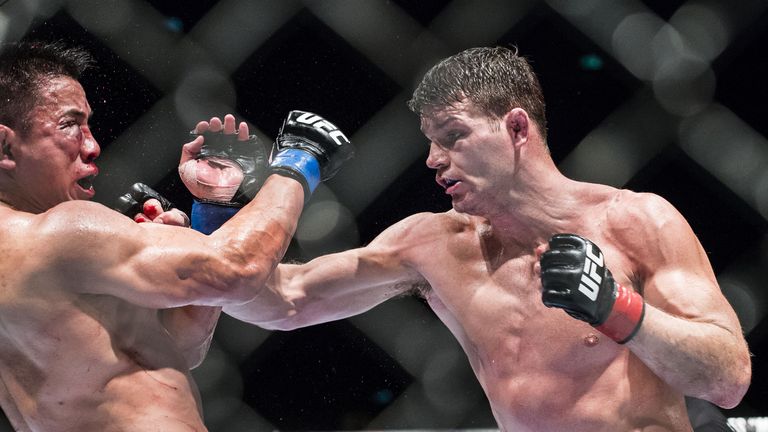 Michael Bisping delivered a spiteful and nasty reminder of his abilities by turning Cung Le's face into a bruised mess and overwhelming him in the fourth round of their Fight Night main-even in Macao.
A left hook in the second round badly cut Le and as blood poured down his face and chest, Bisping increased the volume striking that has become his trademark and eventually got a TKO following a brutal knee 57 seconds into the fourth.
After probably winning the first three rounds with his busier footwork and more frequently landed punches and spinning kicks, Bisping clicked into another gear which his 42-year-old couldn't match, eventually crumbling under the Manchester middleweight's pressure.
His first stoppage win in two-and-a-half years was the ideal rebound from a lacklustre loss to Tim Kennedy in April.
An even first frame clearly identified Bisping as the more technical and quicker striker and Le as the more powerful, but the pendulum swung in the second.
Le's eye swelled shut and although the ringside doctor allowed him to continue he was clearly struggling to see.
The Vietnamese-born Californian retained his dangerous kicks and landed multiple body blows but it was not enough as his ability to inflict pain dwindled.
While the third round was relatively close Bisping sprung out of the blocks in the fourth, backing his opponent up with a plethora of carefully placed punches that Le couldn't see. A knee from the clinch ended the evening.
A riled-up Bisping immediately called for his next fight to be against Luke Rockhold.
Prior to the main-event Tyron Woodley knocked out Dong Hyun Kim in a welterweight clash.