UFC Fight Night: Rafael dos Anjos claims shock win over Benson Henderson in Tulsa
Last Updated: 24/08/14 3:16pm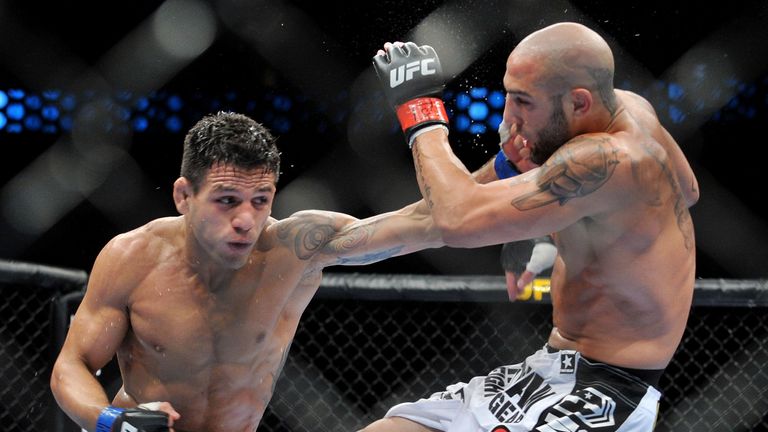 Rafael dos Anjos shocked Benson Henderson with a first-round knock-out at Fight Night in Tulsa, Oklahoma to elevate himself to the very top of the lightweight rankings.
Former champion Henderson had reeled off two wins since losing his title but his path back to Anthony Pettis' belt was halted in surprising fashion although he claimed a premature stoppage.
The 29-year-old dos Anjos had never fought a five-round fight but Henderson had gone the distance seven times previously – although that advantage was academic as the referee waved it off at 2:31 of the opening period.
They traded leg kicks to open the bout, Henderson even getting a knock-down , but when dos Anjos began throwing hand techniques he took over after hitting his foe cleanly.
The Rio de Janeiro native threw himself into a flying knee and while Henderson went down it was unclear how hurt he was. Henderson's takedown attempt was nullified and as they scrambled back to their feet dos Anjos landed a decisive left hook – there was audible shock in the crowd at the quick upset.
Although Henderson made a point of bouncing back up, jogging around the cage and greeting the winner, the referee's stoppage seemed fair as he briefly stopped defending himself.
For dos Anjos this clearly represented the biggest scalp of his career, his seventh victory in eight. He was ranked fifth prior to this fight so is likely to be immediate involved in top-contender contests.
Previously in Tulsa, Jordan Mein and Thales Leites won KOs over Mike Pyle and Francis Carmont, respectively.