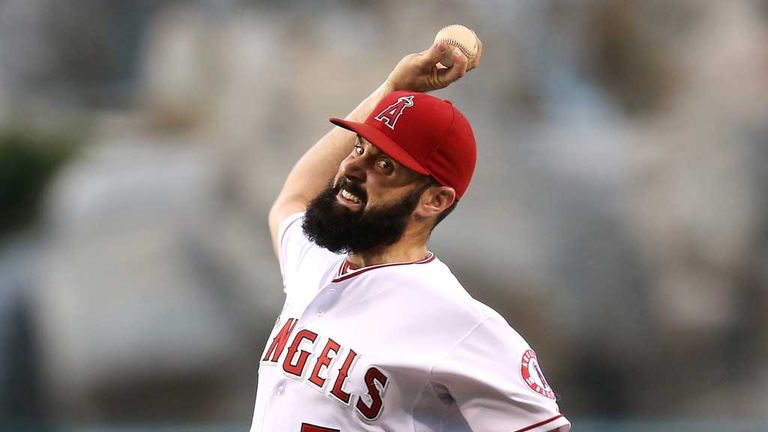 The Los Angeles Angels moved ahead of the Oakland Athletics in American League West after an 8-2 win over the Miami Marlins.
Matt Shoemaker pitched seven scoreless innings while the Angels scored five runs in the fourth inning.
Oakland were beaten 4-2 by the Houston Astros after Chris Carter's three-run homer, the fifth time this year he has gone long against his former team.
Elsewhere in the division, the Seattle Mariners beat the Texas Rangers 5-0.
The Baltimore Orioles extended their lead in the AL East after a 4-2 win over the Tampa Bay Rays, Jonathan Schoop with the go-ahead RBI single.
Pursuers the New York Yankees and Toronto Blue Jays both lost, with the former beaten 5-2 by the Detroit Tigers while the Boston Red Sox beat Toronto after a wild 11th inning.
The teams were locked at 4-4 until Dustin Pedroia added a two-run single to his earlier two-run homer. Mike Napoli and Allen Craig went long for three and two runs respectively and despite scoring doubles for Dioner Navarro and Danny Valencia, the Blue Jays could only limit the deficit to 11-7.
Lead
Detroit's win - which came despite two solo homers from Jacoby Ellsbury, the only runs in eight Rick Porcello innings - kept them on the tail of AL Central leaders the Kansas City Royals.
Alex Gordon hit a two-run homer in the bottom of the ninth to earn KC a 2-1 win over the Minnesota Twins and maintain their 1.5-game lead.
The Cleveland Indians beat the Chicago White Sox 8-6 on Zach Walters' two-run shot in the 10th inning.
In the National League Central, the Pittsburgh Pirates kept themselves in touch by beating the second-placed St Louis Cardinals while leaders the Milwaukee Brewers also lost.
Ike Davis' three-run pinch-hit homer lifted the Pirates to a 5-2 success while Milwaukee went down 4-1 to the San Diego Padres.
The Chicago Cubs beat the Cincinnati Reds 3-0.
The status quo was maintained in the NL West as leading pair the Los Angeles Dodgers and San Francisco Giants both won.
Madison Bumgarner came within a solitary eighth-inning hit, Justin Morneau's double, of a perfect game but pitched a full-game shut-out as the Giants sank the Colorado Rockies 3-0. The runs came on Buster Posey's pair of home runs.
The Dodgers won 9-5 against the Arizona Diamonbacks. Matt Kemp started the scoring with a two-run homer while six runs came in the fourth inning.
The Washington Nationals stayed 7.5 games ahead in the NL East despite a 4-3 defeat to the Philadelphia Phillies as nearest challengers the Atlanta Braves went down 3-2 to the New York Mets.