UFC: TJ Dillashaw says Renan Barao needs more time to recover ahead of rematch
Last Updated: 29/08/14 4:41am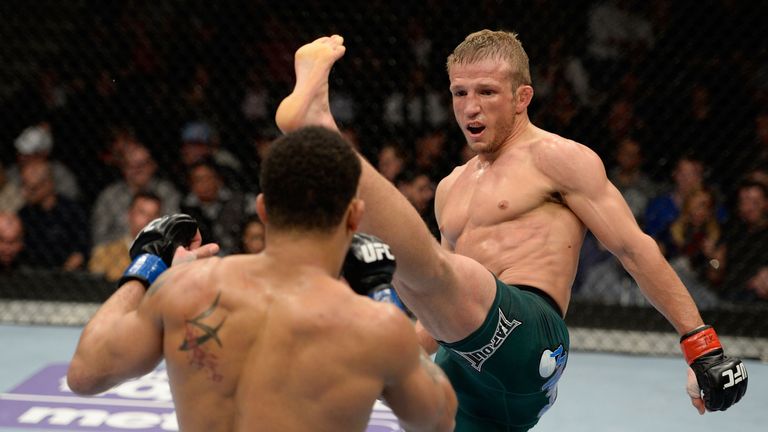 New bantamweight champion TJ Dillashaw has questioned whether it is healthy for former titleholder Renan Barao to re-enter the cage this weekend at UFC 177, three months after a damaging and concussive defeat.
Dillashaw thrashed the vastly more experienced Barao in May for 22 minutes before a late stoppage and now wonders whether it is safe for his opponent to rebound so quickly in their rematch in Sacramento, California on Saturday.
"I don't believe his brain has had enough time to recover from the strikes landed on it," Dillashaw told Sky Sports.
"It could be true that fighters never fully recover after taking a beating – especially after coming back so quickly from a fight.
Not only did I rock him multiple times, I landed a lot of significant strikes to the head. It takes serious time to recover from that.
TJ Dillashaw on Renan Barao
"Not only did I rock him multiple times, I landed a lot of significant strikes to the head. It takes serious time to recover from that. Who knows how quickly he went back into sparring and training?
"Health-wise it would have been smarter for him to take more time.
"Our mind-set in our gym would be to take more time to recover. We've never had that situation from a fight but if anyone from our gym gets knocked out but I believe we would want more time to reinvent yourself and learn."
The mauling that the 28-year-old Californian inflicted upon Barao went down as arguably the biggest shock in UFC history yet the new champion insists he was not insulted by the underdog tag that he has now shaken off.
"I'm comfortable with it," he continued. "He was undefeated for longer than I was even fighting.
"I expected to be an underdog because he was one of the pound-for-pound best in the world. I understand that. I was a young kid with a 10-2 record going in, he had a 33-win streak.
Domination
"Mine was different to other upsets, I didn't just land a lucky punch, it was a total domination.
"I'm expecting the same fight again, his basic instincts will fall back into place and he hasn't had time to change into a different fighter. If he tries to change what he does it could hinder his performance and I'll take advantage of that."
Dillashaw's surprising win also broke his Alpha Male gym's losing 0-4 record in title fights against their Nova Unaio counterparts – a Rio de Janeiro camp featuring Barao and Jose Aldo – but he insists he had his eyes on the prize even as his team-mates fell to the Brazilian pair.
"I was absolutely looking from afar thinking I could beat Renan. My team-mate Urijah Faber fought him twice and I was his main training partner – I actually cornered him the first time – so I've watched a lot of tape on him and picked him apart to tell Urijah how to beat him. I've been training for this guy for a long time.
"I was hoping Urijah would win the belt even though it would have obviously meant longer before I could get it. I would have waiteduntil he retired or was beaten."
But would Dillashaw, world champion if not his gym's elder statesman, grant Faber an opportunity at his belt in the ultimate show of sportsmanship and respect?
"No, we won't fight," Dillashaw categorically stated. "That hasn't changed.
"I've done every MMA practice ever at his gym, he got me into this. He's been a huge mentor to me through this sport and in life in general. We've become really good friends and I don't want to have to fight him."