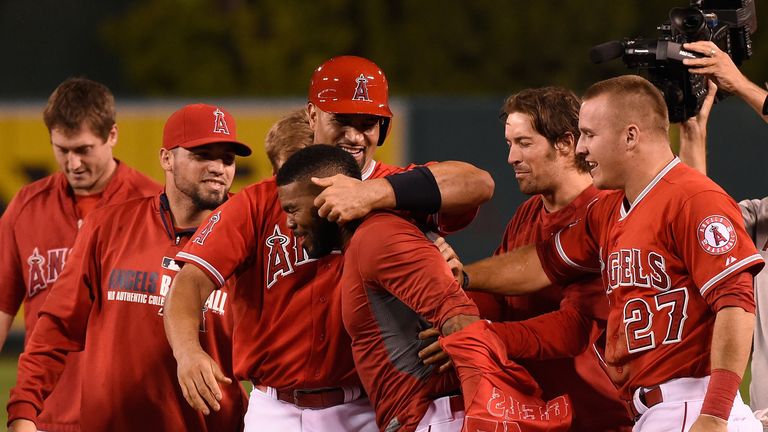 The Los Angeles Angels came out on top against the Oakland Athletics in a battle between the two leading teams this season, but it needed a 10th inning to separate the two divisional rivals.
Gordon Beckham's 2RBI single completed a three-run second inning for the Angels but Oakland levelled through two runs in the fifth inning and the in-form Josh Donaldson's homer in the next.
Ryan Cook saved Oakland with the bases loaded to force an extra innings, but the Angels still claimed the spoils thanks to Howie Kendrick's walk-off sacrifice fly for Albert Pujols.
The 4-3 victory leaves Oakland two games ahead of the Angels in the American League West.
The Detroit Tigers moved alongside the Seattle Mariners in the wild card standings with a 3-2 win over the New York Yankees. Alex Avila delivered the walk-off hit while Kyle Lobstein pitched six innings of two-run ball on his first MLB start.
The win also lifts Detroit within 1.5 games of AL Central leaders the Kansas City Royals, who were beaten 11-5 by the Minnesota Twins after a six-run extra inning.
Alex Gordon's homer for KC had tied the game up in the seventh and that was how it stayed until Eduardo Nunez's RBI single off Bruce Chen, who then suffered a chasing at the hands of the Twins offence.
The Cleveland Indians completed a series win over the White Sox in Chicago as Carlos Carrasco and Cody Allen pitched them to a 3-2 win.
Retired
The Baltimore Orioles stretched their AL East advantage over the Yankees to seven games with a 5-4 win over the Tampa Bay Rays, JJ Hardy scoring the decisive seventh-inning run.
Jason Castro's grand slam fired the Houston Astros to a 4-2 win over the Texas Rangers.
The San Francisco Giants beat National League West rivals the Colorado Rockies 4-1, Yusmeiro Petit breaking a Major League record as he extended his run of consecutive batters retired to 46.
Gregor Blanco went long for the Giants, who trail division leaders the Los Angeles Dodgers by 4.5 games and occupy a wild card spot.
The Atlanta Braves became their closest challengers for that post-season spot with a 6-1 win over the New York Mets, Mike Minor starring both on the mound and at bat.
The Cincinnati Reds beat the Chicago Cubs 7-2, Dylan Axelrod with five shut-out innings to record his first win with the club while their batters stole six bases.