Helen Glover delighted for partner Heather Stanning after World Championships win
By Dev Trehan
Last Updated: 01/09/14 9:54pm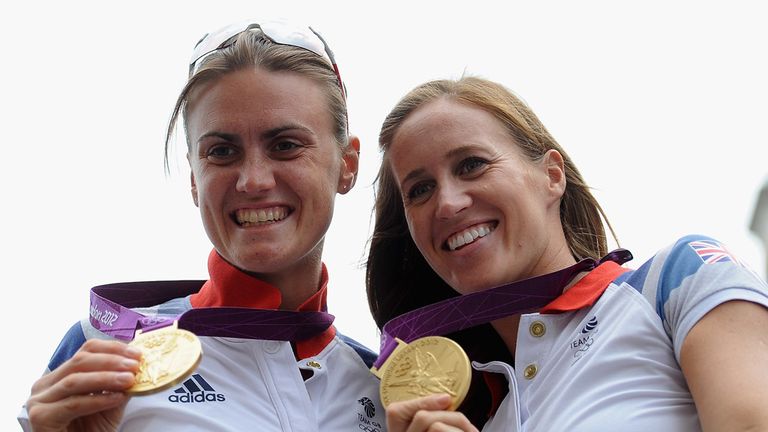 Helen Glover says her coxless pairs World Championships triumph in Amsterdam at the weekend is extra special because she won it with long-term rowing partner Heather Stanning.
The duo, who stormed to Olympic success in the same event at London 2012, beat silver medallists the United States and third-placed New Zealand to claim their first world gold medal together.
Glover won the same title last year after pairing up with Polly Swann as regular partner Stanning was unavailable due to her commitments with the Army.
And the 28-year-old from Cornwall is delighted the pair have won a world title together after an arduous journey coming up through the ranks - the pair also broke the world record time for the coxless pairs.
"It's a really surreal feeling and each time something like this happens it still feels unexpected which is weird to say because it's becoming more the norm," Glover told Sky Sports.
"It still feels exciting and I'm excited about this win for different reasons compared to the others.
"For Heather this is her first world title. Winning it with Polly last year – I didn't realise how exciting that would be. It was a really big deal and I definitely wanted Heather to experience that.
"After the Olympics she went back and spent a year in Afghanistan - she's an officer in the Royal Artillery - so I started rowing with Polly.
"But this definitely feels like old times. We trained together for a few years with our coach Robin before and it's really motivating to know that all the hard work has paid off."
When Glover and Stanning first joined forces they were nowhere near the level they are at now and were only classed as reserves for the coxed eights.
But a World Championships silver medal, won under the guidance of coach Robin Williams, helped transform them into a force to be reckoned with on the world stage.
"At the Olympics I'd been rowing for four years," she said. "Two years after coming into the boat Heather and I won silver in the World Championships in New Zealand and that was a really dramatic curve of improvement.
"Heather had been rowing for a while before that and had enjoyed a lot of success at U23 level so at that time she was definitely leading the project as the experienced one.
"It's interesting that the tables have turned recently because I became a world champion and was leading the project because as she had been away for a year and was coming back in.
"But along with our coach Robin Williams we've always strived for more and that's why our improvement has probably surprised other people more than us."