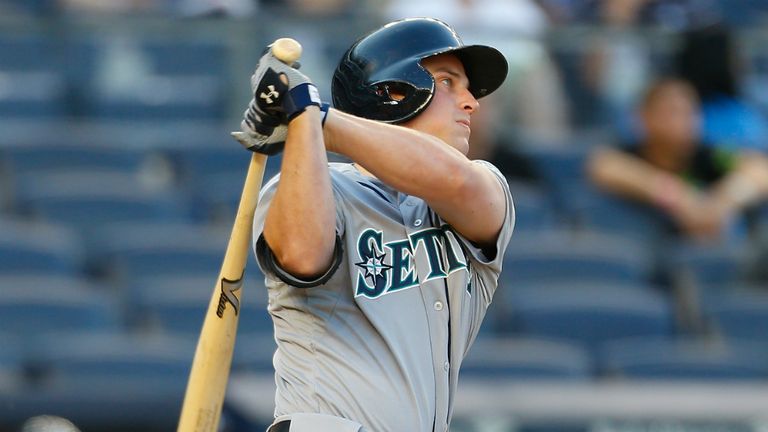 The Seattle Mariners moved to within half-a-game of a wildcard spot in the American League after a 2-1 win over the Oakland Atheltics.
Homers off consecutive seventh-inning pitches from Kyle Seager and Corey Hart handed the Mariners the win and took advantage of a 7-0 defeat for the Detroit Tigers.
The Tigers currently hold the second wildcard spot but did their chances of making the post-season no good as they were hammered by the Cleveland Indians.
Danny Salazar pitched his first career shutout as the Indians moved to within four games of the Tigers.
The Kansas City Royals also benefited from Detroit's loss as a 4-1 win over the Texas Rangers moved them a game and a half clear at the top of the AL Central.
Alex Gordon slotted a two-run homer and Billy Butler added an RBI double as the Royals completed a series sweep.
The Atlanta Braves narrowed the gap in the National League wild card race with a 7-4 win over the Philadelphia Phillies.
B.J. Upton's two-run homer led the way for the Braves who had been shut out by the Phillies the previous two days.
Walk-off single
The Milwaukee Brewers still hold the second wildcard spot but are now three games back in the Central after a 6-2 loss to the Chicago Cubs.
The St Louis Cardinals lead the way in that division and they sealed a 1-0 win over the Pittsburgh Pirates thanks to Peter Bourjos' walk-off single.
The Houston Astros won their fourth straight game as they beat the Los Angeles Angels 4-1 while the Colorado Rockies were 9-2 victors over the San Francisco Giants.
Adam LaRoche had five RBIs as the Washington Nationals needed 14 innings to beat the Los Angeles Dodgers 8-5, the New York Yankees beat the Boston Red Sox 5-1 and the Baltimore Orioles overcame the Cincinnati Reds 6-0.
The New York Mets beat the Miami Marlins 4-3, the Toronto Blue Jays were 7-4 winners over the Tampa Bay Rays, the Minnesota Twins overcame the Chicago White Sox 11-4 and the Arizona Diamondbacks beat the San Diego Padres 6-1.