Sky Sports views
See what our experts have to say on the London 2012 legacy and England's clash with Ukraine...
Last Updated: 10/09/12 6:38pm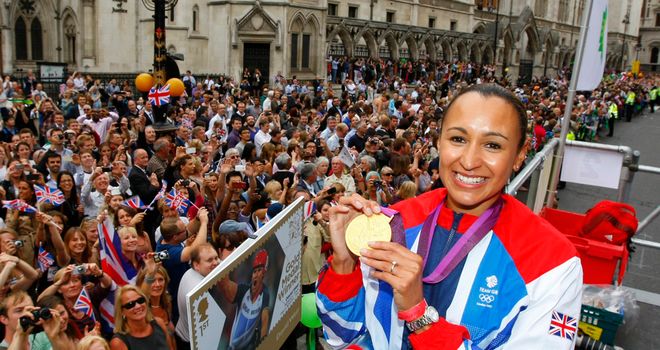 Lord Coe on the success of London 2012
"Pride is the overwhelming sensation I feel, whether that be of the athletes, spectators, Games-makers or the teams we have at LOCOG who have delivered a fantastic experience. There is also a bit of relief that we didn't let anybody down and people had a great time.
"The thing I am most proud about is that we did it with passion, with purpose and in partnership and I guess it tells me that if you really do believe in what you are doing and that the outcome is going to be a good one, it takes you so far. It has been a long but phenomenal journey.
"The British success here is down to a synthesis of four very important ingredients: great national governing bodies; world-class coaching; the best athletes of their generation coming along at just the right time; and high and predictable levels of funding.
"To go onto Rio and deliver what we have done in London is going to be tough and we are not going to have the advantage of passionate fans in the venues, but to make sure we keep progressing we need those four key ingredients in place. It's not much more complicated than that."
Ray Parlour on England's World Cup qualifier with Ukraine
"It was a very professional performance from England in Moldova on Friday. When you go to places like that you're expected to win but you've still got to do the job. The early goal settled England down and they did what they had to do. The main thing for them now is focus on Ukraine and getting maximum points on Tuesday night. This is the big game for them. Two wins would be a great start for them in the qualifying round.
"Ukraine will definitely be more of a test. They've got some talented players and played Okay during the Euros, but you'd expect England to go out and really take the game to them. We're expecting a big crowd at Wembley, the atmosphere will be great and hopefully the players will step up. If they start the game really well in the first 5-10 minutes they can get at them. Teams definitely up their game when they come to Wembley but England have enough talent to beat Ukraine, and win quite comfortably."
Tony Jardine on Lewis Hamilton's future
"It took a little while for him to go over to his team and congratulate them after his win on Sunday, whereas Sergio Perez had been jumping all over his team as soon as he jumped out of his car. Hamilton didn't seem that ebullient. I thought he'd be really jumping for joy but he was really cool afterwards.
"He was also very guarded in his interview. I think that's part of the negotiation and part of the stance he's taking. We know there's a ceiling at McLaren. Hamilton currently gets £16.5m and he wants around £20m. His agency are pushing like crazy for that, which he'll get from Mercedes, but the flip side to that is: with McLaren you get a fantastic car, with a fantastic team.
"They've got strength in depth and enormous experience. Do you want to leave and go to another team that's going to take maybe two or three seasons before they can think about winning a world championship? This is a big decision to make for the extra four million.
If I was advising him I'd say stay where you are. Jackie Stewart has said the same. There's a bit of loyalty involved in it, too, because he's been there since he was 11 and they've made him and perhaps he owes them a little bit back - but that's a purist's view, isn't it?
Lord Coe on what sort of legacy London 2012 can leave
"The first legacy was winning the right to stage the Games, and the second was staging them as well as we have and seeing the stars of the show and Team GB turn it on and generate a fantastic atmosphere that the British public continued in the venues.
"But the third legacy and the most exciting bit of this story lies ahead, and that is converting every one of our medals into hundreds and thousands more kids swimming, running, cycling, playing wheelchair basketball etc.
"I have spoken to people who run athletics clubs and they are already saying they have a queue of kids on Saturdays and Sundays wanting to join the clubs, so we need to make sure we have the structures in place to capitalise on what we have done this summer."
Ray Parlour on Alex Oxlade-Chamberlain
"He's a top talent. I think his dad will help him as well, being a footballer himself, he'll keep his feet on the ground. I've spoken to Arsene Wenger about him and he says he wants to learn and says he's got such a good attitude for a young lad. I think he's going to be a top star.
"There were signs the other night of what he can do and I think in the future he can be a massive player for England, along with the likes of Jack Wilshere. We've got some good youngsters in that side now who can hopefully step up going into the World Cup."
Tony Jardine on the race for the Formula One drivers' title
"Fernando Alonso is on 179 points and Lewis Hamilton is on 142 points. It's 25 points for a win, so Hamilton isn't far away. We've got Singapore coming up, where Lewis always stars - it's one of his favourite circuits - so I think we could see it go down to the wire. We've had some great finales at Abu Dhabi and Brazil and I wouldn't discount that happening again. It's very close at the top."
Darren Gough on why England should persevere with Ravi Bopara
"He is a terrific batsman who can win you a game and that's what you want in your Twenty20 side. He keeps getting good deliveries or middling one to cover - he is getting out in the weirdest ways - and needs a knock. He has done decent with the ball throughout the one-day series but we know he has to start scoring runs."
"I hope he does because he is a terrific lad and works hard; I used to bowl at him in the nets at Essex and I always thought he was a serious talent. He has so much time on his hands when he is in the nets but he needs to transfer that into the middle and quickly because there are a lot of youngsters breathing down his neck."