Sky Sports views
See what our experts have to say on Andy Murray's historic US Open final victory over Novak Djokovic...
Last Updated: 11/09/12 3:21pm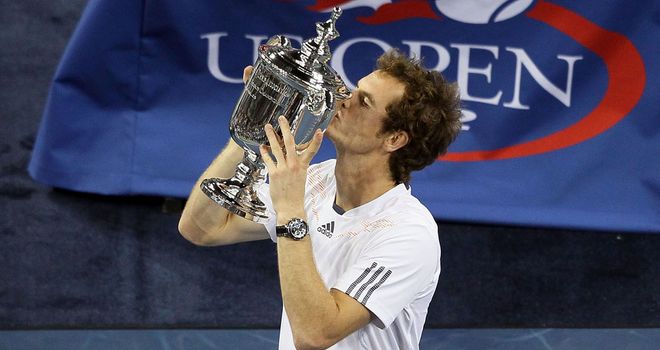 Tim Henman on why Andy Murray's US Open triumph was so satisfying
With Andy's history of losing four Grand Slam finals and then coming up against Djokovic, it was never going to be easy. The way the match unfolded made it even more impressive; he was up two sets to love and you thought the finishing line was getting close and then Djokovic responded so well.
It would have been so tough for Andy both mentally and physically losing the third and fourth sets, so to pull it out in the fifth in makes sit all the more satisfying.
There have been so many questions asked of him over the last seven or eight years, whether that be about his mental approach and dealing with adversity on the court, or his physical fitness and I think it was fitting that those two areas are where he shone through; he was able to keep his emotions in check in the fifth set and it was Djokovic who was struggling.
He has been close so many times but with an Olympic gold medal and the US Open title Andy has had an unbelievable summer. I now believe he will kick on and win many more Slams.
Greg Rusedski on Murray's new standing in the game
We talk about the top three in the men's game, well now it's the top four because all those guys have won majors. When you're as consistent as Andy Murray is there's no way he's not going to win another one. Maybe he's not going to dominate like Djokovic has, winning three out of the last four, but I wouldn't be surprised if he won one or two next year. All of a sudden his belief will get stronger and stronger. He always plays well at the Australian Open, he got to the finals of Wimbledon this year and he's just won the US Open.
Mark Petchey on Murray's US Open win
This is unbelievably special. I always believed he'd win one of these things. There was always a touch of genius about his tennis but there are three other geniuses around at the moment, so it was always going to be difficult for him to do it. I'm incredibly proud. There are a lot of people out there who, after the adversity he's suffered, wouldn't have had the courage to come out and play the sort of tennis he did in the fifth set. Andy managed to elevate his game in that final set, his serve was magnificent and he took it to Novak. It was everything you wanted to see from him.
Andrew Castle on Murray ending a 76 year wait
It seems amazing, even now, just a few hours after Murray achieved this great success, that it's been 76 years since we had a men's Grand Slam winner. It's unbelievable. Some people have gone very close in the past but Murray has been knocking on the door for some time. Those four Grand Slam final losses must have really hurt him and going into that fifth set you just know he'd know what he'd feel like if he lost this one. His guts and determination were superb.
The physical limits he and Djokovic push each other to whenever they meet in a best of five is something players of 10, 15, 20 years ago couldn't have dreamed of. Their atheltic ability and sheer determination and willingness to hurt themselves is something to behold. The days of looking longingly at black and white photos of Fred Perry are now over; this was a victory won in technicolor and HD.
Greg Rusedski on Murray's determination
I remember playing with Andy when he was 17 and you just felt something when he hit the tennis ball, he had a great knowledge of the game and did everything a little bit differently.
I remember being on the airplane back from a Davis Cup match and Tim Henman had hired a private jet. Andy said: 'that's going to be me one day'. He knew where he was going. He was different to all the other players coming up and his drive and determination is why he has it.
He knows himself better than anyone else. From the age of 19 he was in the top 10 and he knew what he needed. He studies the game of tennis. They say his coach Ivan Lendl used to try other players' rackets during his career to see how the ball came off them. Well, Murray understands all of those things, from equipment to player strategy. He has left no stone unturned and that's why he's so deserving of this success.
Miles Maclagan on Murray's improvements since the 2008 US Open Final
Murray's a better player and he's stronger now. He was in four Grand Slam finals before this one so he had more experience to draw on. I think he's mentally stronger, he learnt how to channel his anger and nerves and use the crowd. As much as anything the other players, seeing him play so well, were almost ready for him to win a Slam as well.
It was incredibly tough to come back in that fifth set. Even in the second set he was grabbing his leg and you think 'what's going to happen?' But to lose two sets, go through physical pain - he was hobbling when he picked up trophy - and still win showed his phenomenal guts and determination.
Miles Maclagan on Ivan Lendl's influence
You can see how Lendl's mind works. It's no surprise why he was world number one for such a long time because he really takes care of details. He's very knowledgeable and when you're coach has won eight Grand Slam titles what they say carries a lot of weight. There's no question the fact it took Ivan five Slams to win his first would have crossed Murray's mind when he was choosing him as coach. At key moments it would have been comforting to have Lendl sitting there saying 'I went through this, I know how you feel, I know the dejection and disappointment but I did it and you can too'.
Tactically in the last year Murray's realised he needs to be more aggressive and proactive. Over time it's become more of a habit to play more offensively. There's no bigger pressure than playing in the final of the US Open and he was able to maintain his aggressive style because he has been working on it consistently all season.
Andrew Castle on Ivan Lendl's influence on Murray
Lendl is not someone you can mess about with. He came in with the rules and structure he wanted in terms of the relationship and Murray has responded. Murray has never been afraid to take people onto his team or kick them off if he doesn't think it's working. Those first two sets were so close but Murray won them both. What's the difference between winning those sets and losing them? It's so marginal. It has to come down to 1%, 2% of something - mental strength? Belief? Confidence? Physicality? I don't know. All I know is Murray had it this year and he hasn't had it in the past. Some of the credit has to go to Lendl for that.
You have to salute Murray, though. He's 25 years old, still a young man and he must have another five or six years at the top of the game. This could open the flood gates.
Miles Maclagan on the turning point
The big match was the Wimbledon final. For the first time in a Grand Slam final Andy came out and really went after his opponent. He made the statement 'I'm her to win, I'm not going to wait for anyone to give it to me'. Even though he lost, he played well and I wonder if that opened the way for him.
This win could quite possibly be the first of many. The doubt is not there anymore. If he hadn't won from 2-0 up it would have been quite a blow. But now he knows he can do it and confidence is a massive thing in sport.
Mark Petchey on Murray's Olympic inspiration
It was a huge boost for him to win that gold medal, to win over five sets against Roger. Just being in that Olympic environment, he was so motivated by so many great British performances in London - we heard him talking about Mo Farah - and I think it gave him a sense of belief. But you've got to have the talent as well. You've got to try and put the whole package together. That's where Ivan Lendl has made a big difference. His whole team have done a phenomenal job getting him into this position.
Mark Petchey on Murray's future
It's going to be a lot easier to win another Grand Slam now. This was huge for him. I believe he will get multiple Grand Slam wins. I always felt after he got the first one it would be easier, but it would be very disrespectful to say he's going to go on a Novak Djokovic-type sweep next year. He clearly can, but there are three guys out there who are just as hungry and as good as he is. But he'll play much more relaxed tennis in those big pressure moments.
Ross Hutchins on his friend Andy Murray
I spoke to him just after his match and he said how tired he was, then I spoke to him this morning when he was coming back from dinner and he was ecstatic. He is so happy that he has finally got this monkey of his back and won a major title.
He deserves it, it is an incredible achievement. He is always putting himself in the running but now he has finally done it. Ivan has done an excellent job. Off court he has helped him prepare for matches, making sure he relaxes so he has all his energy for the matches. Also he has made sure in the practice week that he spends more time on the court, hitting more balls and getting used to the conditions early on.
Then the key is on the match court - Andy is so clear on his game plan now. When it comes to the big points he knows his game style and knows whether he needs to be passive, use the slice, the high ball - Ivan has made him very confident in his ability and that his ability his good enough to beat the top players. At the top of the game it is just about making those tiny adjustments that can make the difference.