Good week/Bad week
We pick out our winners and losers from the last seven days
By Mark Kendall - Twitter: @SkySportsMK
Last Updated: 04/02/14 10:50am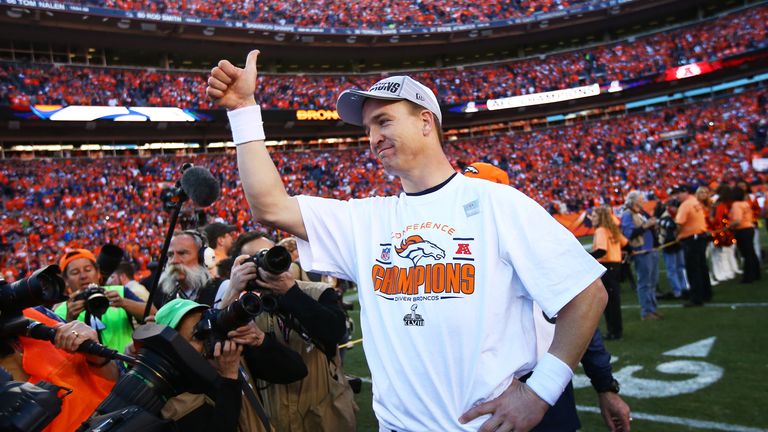 We've picked out our heroes and villains of the week. Send in your own suggestions using the feedback form at the bottom of the page.
Good weekPeyton Manning & the Denver Broncos
Billed as the battle of two of the greatest quarterbacks of all time, it was Peyton Manning who got the better of Tom Brady and the New England Patriots on Sunday evening to lead the Denver Broncos to their first Super Bowl appearance in 15 years.
In truth it was a consummate team performance from the Broncos who racked up 507 offensive yards, did not turn the ball over and did not allow a single sack on their star QB during the 26-16 win.
But the impeccable Manning certainly played his part, completing 32-of-43 passes for 400 yards, two touchdowns and no interceptions, to ensure arguably his finest-ever regular season will now climax with a third career Super Bowl trip.
The 37-year-old has the chance to become the first quarterback to ever start and win a Super Bowl with two different teams, and he will do so at the home stadium of brother Eli in New York against the Seattle Seahawks on February 2.
Ronnie O'Sullivan
Ronnie O'Sullivan added yet another title to his dazzling CV as he landed his fifth Masters crown by beating defending champion Mark Selby 10-4 at Alexandra Palace.
It capped off a quite superb week from the reigning world champion as he swept aside all before him with a series of dominant performances.
His 6-0 demolition of Ricky Walden in the quarter-finals, which took under an hour, has already gone down as one of the best displays of all time on the green baize.
A victory over Selby - who had proved his nemesis in previous finals with a hat-trick of nail-biting victories - proved the perfect way for O'Sullivan to finish the job in front of his adoring London fans.
Irish rugby provinces
It was an excellent weekend for Irish rugby as European heavyweights Munster, Leinster and Ulster all won to enhance their Heineken Cup hopes.
A rampant Munster ran in six tries during a 38-6 victory over Edinburgh which ensured they claimed top spot in Pool 6 and a home quarter-final against Toulouse, as well as revenge over their Scottish opponents for their defeat in the first round of matches.
It was a similar story for Leinster who notched five tries against the Ospreys as they got the win they needed to progress to the knockout stages , the 36-3 success setting up a mouth-watering clash away to holders Toulon.
Last, but not least, Ulster produced a performance of real strength, courage and class to defeat Leicester at fortress Welford Road, Ruan Pienaar scoring all the points in a fantastic 22-20 triumph that earned the men in white a home tie with Saracens.
Jose Mourinho
Mourinho's second coming at Stamford Bridge has been a strangely subdued affair thus far compared to the fanfare and soundbites that accompanied his original arrival back in the summer of 2004.
The twinkle in his eye appeared to have dulled rather, where there was once unbridled arrogance there seemed a hint of resignation and the cheeky knowing smile was more of a surly shrug - Jose looked like the 'Grumpy One' and some of his team's early results certainly didn't help.
But things now look to be falling nicely into place at Stamford Bridge and there was a certain swagger about their 3-1 victory over Manchester United on Sunday - a win over the champions that was achieved without getting out of second gear.
The success was Mourinho's 100 in the Premier League - achieved in 20 fewer games than it took Sir Alex Ferguson - and saw him extend his remarkable home league record as Chelsea boss... the Blues look to be pacing their title challenge perfectly.
Bad weekSerena Williams
Favourite for the women's title, Serena Williams saw her bid for a sixth Australian Open crown fold with an unexpected fourth round defeat to Ana Ivanovic.
The Serb had failed to win a single set in the duo's previous four meetings but, having lost the opener, hit back in impressive style to seal a 4-6 6-3 6-3 victory.
Despite serving 13 aces to Ivanovic's one, Williams was well below par throughout, particularly vulnerable on her second serve, winning just 41 per cent of points on it.
However, there were mitigating circumstances for the 32-year-old as she later revealed a back injury, which hampered her throughout the loss, had almost led her to pull out of the tournament.
David Moyes & Manchester United
Another week and another appearance for David Moyes and his men in the Bad Week section... the 'transition' at Old Trafford continues to take its toll.
A 3-1 defeat at a title-chasing Chelsea is, in itself, certainly no disgrace (especially with Wayne Rooney and Robin Van Persie absent), but the result once again reinforced United's struggles against the division's top sides this season.
They have taken just five points from their nine matches against teams in the top eight - less than any other side in the top half - and the latest defeat led skipper Nemanja Vidic (whose frustration boiled over into a red card) to write off their title chances.
With a seven already chalked up in the losses column, Moyes' United side have now lost as many times as his Everton outfit did last season... did anyone know it would be this painful?
England's cricket team
If there is crumb of comfort for Moyes and his men it's that there is always someone worse off than you... step forward the England cricket team.
Their tour of Australia continues to stumble from one catastrophe to the next with this week arguably offering a new low - and that's saying something.
They somehow managed to snatch defeat from the jaws of victory in the second ODI in Brisbane as James Faulkner smashed them to all parts in the closing overs to seal a scarcely-believable but incredibly-painful win for Australia.
A far more comprehensive success in Sydney duly sealed the series for the hosts just a couple of days later, prompting Cook to admit he could step down as one-day captain in the weeks ahead. How the England skipper must wish he could just jump on a plane home right now.
Rory McIlroy
Finishing as runner-up in your seasonal debut would probably rank as a pretty decent start for most golfers and, when the dust settles, Rory will undoubtedly take plenty of positives from his performance at the Abu Dhabi Championship.
But, having lost by just a single stroke to Spaniard Pablo Larrazabal, it was entirely understandable that the two-time major champion might be a little frustrated having been hit with a two-shot penalty after the end of round three.
McIlroy was penalised after his stance was called into question following a drop, his left foot fractionally touching a white line denoting a crossing meaning he had not taken full relief.
It would ultimately prove extremely costly for the 24-year-old who could barely conceal his frustration, stating: "There are a lot of stupid rules in golf and this is one of them."