Bright young Briggs
Hampshire's perfect blend of experience and youth was the key to their T20 success, says Nick Knight.
Last Updated: 27/08/12 8:14am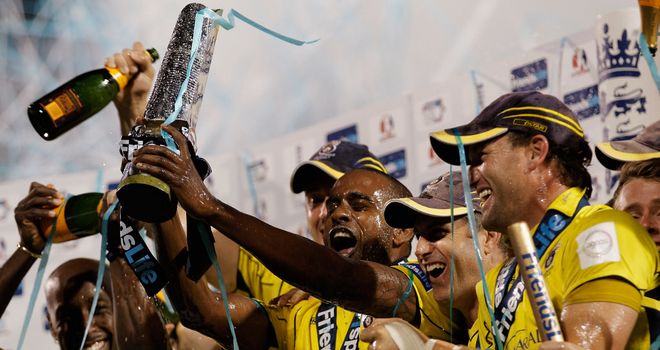 Hampshire's perfect blend of experienced senior players and fearless youngsters was the key to their success over Yorkshire in the Friends Life t20 Final, says Nick Knight.
After seeing off Somerset in their semi-final, Hampshire compiled 150-6 in their 20 overs at the SWALEC Stadium, before holding Yorkshire to 140-8, despite an inspired 72 not out from David Miller.
Knight believes Hampshire will build on this result next season and picked out spinner Danny Briggs among the county's impressive young stars for praise.
"The most pertinent point is Hampshire's mix of youth and experience," he told Sky Sports.
"They've got four or five youngsters who were put under real pressure but delivered. Briggs for me is still the stand-out young bowler in this country in one day and Twenty20 cricket. He always holds his nerve.
"You see captains, time and time again - whether it was Dominic Cork last year or Dimitri Mascarenhas this year - when the pressure is on they turn to Briggs. He's not a big turner of the ball - he may never be - but he holds his nerve and he finds a way of getting a wicket or keeping the game tight.
"You look at club like Hampshire and think they'll keep their youngsters. We saw with Leicestershire last season, they won a trophy and then lost some of their better players. I don't think that's going to happen at Hampshire. It's a big club now with big plans and the young players, you feel, will be part of that."
Restrict
Nasser Hussain also had praise for Briggs, pointing out his ability to restrict the opposition batsmen.
"I've always been impressed with Danny Briggs," he said. "He holds his nerve but he also has a nice action. When he comes on you feel the required run rate is going to go up because he doesn't bowl any dross and he turns the ball enough. If he does get whacked for six he says 'give me the ball back' and responds."
David Lloyd suggested the role of a young spinner has changed dramatically in the past 20 years.
"If you go back a couple of eras a young spinner was judged on whether he could bowl with players around the bat," he said. "Now it's: can he hold his nerve when people are coming after him.
"He knows, with just four overs, people are going to whack him. He's got 24 deliveries to work out how he can stop them from hitting him. You could tell from Briggs' post-match interview he was thinking about what he was going to do with every ball."