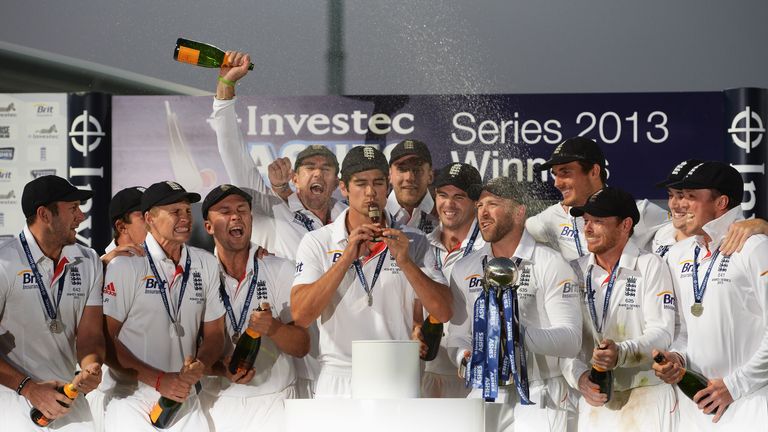 England closed out another Ashes series victory; Sebastian Vettel moved closer to another F1 title; while rugby league's annual day out at Wembley fell flat.
We've picked out some notable examples of the twin imposters - triumph and disaster - from the last week and you can send in your own suggestions using the feedback form at the bottom of the page.
Good week
England's cricketers
Aleem Dar's light meter denied England the chance for a record 4-0 win over Australia at The Oval - but that did little to dampen the celebrations of Alastair Cook's team.
Michael Clarke's tea-time declaration on the final day of the series set England 227 in 44 overs, an equation they had reduced to 21 off four when Dar and umpiring colleague Kumar Dharmasena decided it was too dark for play to continue.
Instead, England had to settle for a 3-0 scoreline after wins at Trent Bridge, Lord's and Durham - and a third Ashes series win in a row.
"We've had some real tough moments as a side but the character we've shown throughout the series is fantastic," said Cook. "That's the hallmark of a good side and it comes from a lot of experience and a lot of class."
Sebastian Vettel
The Red Bull driver claimed victory at the Belgian Grand Prix to open a 46-point in the drivers' championship standings.
Vettel, bidding for his fourth straight Formula One title at the age of 26, overtook pole-sitter Lewis Hamilton on the opening lap and controlled the remainder of the race at Spa-Francorchamps.
"Once I was past Lewis, I had incredible pace and could control the race. It's a fantastic result," said the German.
"I don't think we expected to be dominant here, and it surprised all of us actually."
Fraizer Campbell
The Cardiff striker scored twice in his side's come-from-behind 3-2 victory over Manchester City.
Campbell found the net in the 79th and 87th minutes as the newly-promoted team earned the scalp of their big-spending rivals in their first home game of the new campaign.
"It was very special but the most special thing was getting the three points," he said. "When you're a promoted side you don't want to wait too long to get points on the board so today was a massive bonus for us.
"The manager's been saying to us that we deserve to be in this league on merit. We did very well last season in the Championship and we've got to go out there and show everyone what we're about."
Arsene Wenger
What a difference a week makes for the Arsenal manager, whose team responded to losing to Aston Villa at home on the opening day of the season with a pair of impressive away victories.
A 3-0 success at Fenerbache in the first leg of their Champions League play-off was followed by a slick 3-1 Premier League victory against Fulham in pouring rain at Craven Cottage.
Wenger now stands on the brink of overseeing a 16th consecutive season of Champions League football and still has the option of opening his little-used chequebook to strengthen his squad.
Asked if he expects to sign anyone before the end of the transfer window, Wenger said: "It's very difficult to predict."
Bad week
Hull FC
Hull came up short on rugby league's showpiece occasion, failing to score a point as Wigan lifted the Challenge Cup for the 19th time.
Tries from Iain Thornley and Sam Tomkins proved enough for Wigan, who dealt with the tricky conditions far better than their opponents.
Hull had come into the match as the in-form team and, while they defended stoutly, offered little threat with ball in hand.
"We couldn't hold the ball," said Hull coach Peter Gentle. "We still only conceded two tries so credit to our defence but, if you can't hold the ball, you're not going to win."
Maria Sharapova
Not much has gone right for the world No.3 recently, who was forced to pull out of the US Open with a shoulder problem.
That announcement came shortly after media reports claiming she was planning to change her surname to 'Sugarpova' for the duration of the New York tournament in order to promote her range of sweets.
She also split with coach Jimmy Connors after one match - a defeat to Sloane Stephens in Cincinnati - earlier in the month.
Sharapova, 26, underwent reconstructive surgery on her right shoulder in 2008 and the latest injury to the same joint raises concerns about her long-term future.
Darren Lehmann
Australia's coach had to eat plenty of humble pie this week, much of it of his own making.
Lehmann used a radio interview to accuse England all-rounder Stuart Broad of "blatant cheating" for his refusal to walk after an edge at Trent Bridge. He also called on the Australian public to "get stuck into him" when England tour this winter, adding that he hoped Broad "cries and goes home".
That cost him a fine from the International Cricket Council and he later apologised to Broad.
Things did not get much better on the pitch as Australia's "revolving-door" selection policy continued into the final Ashes Test, which was drawn to complete a winless series for Lehmann's men.
Kimi Raikkonen
The Lotus driver failed to finish a Grand Prix for the first time since his return to the sport.
His record run of 27 consecutive finishes was ended by brake failure on lap 27 at Spa-Francorchamps.
"There were some brake issues at the beginning of the race but we were managing them and it was going okay until we had to retire," said the Finn.
"We've finished a lot of races and had some good reliability; one day your luck has to run out and today was that day."