England Netball captain Pam Cookey joins What's the Story to discuss dominance in sport
We speak to Netball star Pam Cookey about dominance in sport ahead of What's the Story
Last Updated: 30/10/13 9:35am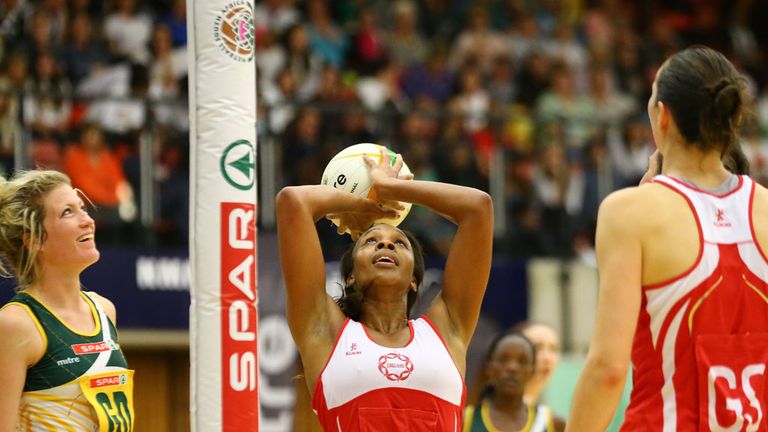 Last weekend Sebastian Vettel made it four F1 Drivers' Championship titles in succession and cemented his place in the history books, but is dominance good for sport?
Some would argue that Vettel's dominance has stripped away from the sport much of the competitive excitement, but others would say a serial winner signals a brilliant talent?
In golf, Tiger Woods led the sport for nearly a decade - did this make other players feel they could never win? Or did it inspire the likes of Rory McIlroy and Adam Scott to chase the same feats?
On Wednesday Sarah-Jane will be joined by former Glamorgan and England spinner Robert Croft, Sky Sports Golf expert Rob Lee, journalist Alyson Rudd and England Netball captain Pam Cookey.
Cookey has recently returned from South Africa where England lost in the final to the home nation by two goals and at the same time lost their 2013 unbeaten run, which has included first-time wins over big rivals Australia. We caught up with Pam before the show to get a quick insight in to her views...
England have been dominant in 2013, what happened in South Africa?
PAM: 2013 had been an amazing year for us; we'd beaten the world No1's Australia for the first time and then went to Jamaica and beat them three times, which we'd never done before either and then beat South Africa in the home series.
So going in to the away matches against South Africa everyone was really confident and we kind of thought we had it in the bag. I think in a way, that made us take our foot off the peddle.
I'm trying to take the positives, but I think it's a good thing that we lost by two goals; if we'd have won by two, we might not have the same reaction that we have had from losing because it means now that we have to go back to training and we know we have a lot to work on.
It must be tough losing that record though?
PAM: For me personally, I wanted to go in to the Commonwealth games knowing we'd beaten everybody that we'd stepped on court to play, so it's a catch 22 situation: you want that confidence that you can do it every time you step on court, but it's good that we've had that wake-up call and we're not complacent before Glasgow.
Australia and New Zealand have always been dominant in the sport, is it now England's time?
PAM: I think the mind-set was always that we're third (behind New Zealand and Australia) and we'd just battle that position out with Jamaica, but beating the Aussies has made us feel we're back in that top group.
They're no longer dominant because we've found chinks in their armour and that's a better a place to be in because you know when you step on court it's not a question of 'how much are the England team going to lose by', it's 'the England team can win this.'
What's the key to the Australians success?
PAM: The Aussies just have this internal dominance because they've been at the top of the game for so long. They're belief is winning. No matter what stage they're at they know when they're coming in to a Commonwealth Games or World Championships that they're going to be in a position where they can win it and that belief is ingrained in them.
I think they have that from being dominant in the sport for so long and now England are starting to get there and have that. Knowing that you are the best gives you that extra one per cent to keep winning.
Is Netball more exciting now England are competing for top spot?
PAM: Now there's no real dominant team it makes it more interesting because every loves a close game. But people do always love someone with an out-and-out excellence and if a team has that then that's something that you want to watch and see.
I definitely think that Australia, New Zealand, England and Jamaica have upped their game so it's now about who is going to win it on the day, but I'm still an advocate that you want to win it every time.
You want to be that dominating team because when you have that nothing can stop you. It's mind-set; we're all playing, we're all training so it comes down to who's got that extra one per cent.
What do you make of Pam's comments? Does dominance in sport ruin the excitement? Or is something we should all admire?
Watch the show at 10pm Wednesday on Sky Sports 1 and join in the debate on Twitter @SkySportsWTS and use the hash tag #WTS