Moments of 2011
Birmingham winning the Carling Cup and England's Ashes victory - our experts pick their 2011 highlights.
Last Updated: 28/12/11 10:12am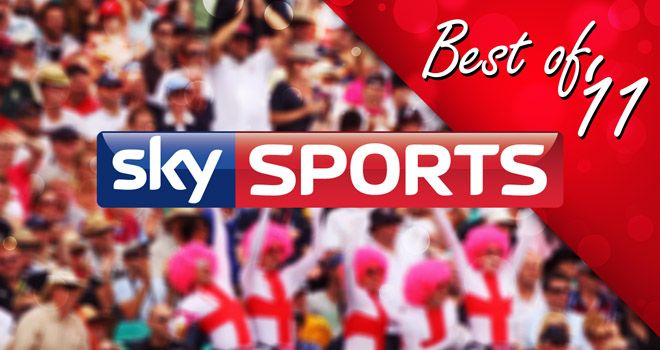 From Birmingham winning the Carling Cup to England's Ashes victory in Australia and the Heinken Cup Final - Our experts pick their highlights of the year!
MARTIN TYLER (Football)

I'd say having the microphone when Wayne Rooney scored that overhead kick against Manchester City. I said it defies description which was because I'd used so many superlatives about him in the past! I saw the whole goal as it unfolded, it certainly didn't catch me out, and as the cross went in I almost had half a second to think about what I might say if it went in. It was such a stunning moment for the quality of the goal and also for the success it meant because they won a match they were in danger of losing.
ROD HARRINGTON (Darts)

For me, it would have to be the guy who stood on a table at the World Championship dressed as Jesus - and then 4,000 people started singing 'Happy Birthday'. It might not be a darts-related thing, but it sticks in my memory because it really sums up what the tournament is all about; a great Christmas party!
PAUL MERSON (Football)

It wasn't a nice moment for Arsenal fans, but I've got to go for Birmingham winning the Carling Cup. That was a massive, massive shock - an unbelievable shock. That team were going to Wembley just to not get embarrassed and have a good day out, but in the end they deserved to win. It wasn't a smash and grab. I was in the studio to see it with my own eyes and as shocks go, that was phenomenal.
NASSER HUSSAIN (Cricket)

I'm going right back to Sydney at the beginning of the year. I love the SCG so it was incredibly satisfying that all of the pain and torture that we have suffered in Australia over the years came to an end there. To see England beat Australia in Australia finally - the first time in 24 years - in front of a euphoric English crowd was just phenomenal. It couldn't have happened in better circumstances because we nailed them in four of the five Tests. It was a thrilling end to a sensational tour.
BOB WILLIS (Cricket)

The denouement in Sydney was incredible, particularly after the hiccup in Perth. England bounced back strongly at Melbourne and then finished the job off in supreme style with another innings victory to end the series as 3-1 winners. To beat Australia three times in that manner was quite outstanding. After such a long wait, these were moments for English cricket to cherish and enjoy, and it was great to see the Barmy Army taking the mickey out of Mitchell Johnson on the boundary!
STUART BARNES (Rugby Union)

My moment of 2011 was the dramatic sending off of Sam Warburton in the semi-final. Wales would have won a game they should have won anyway and thereafter against a nervous New Zealand, we'll never know now. No one said the moment of the year had to be a good one. I love the way Warburton has responded; the likely Lions leader in Australia.
CHRIS KAMARA (Football)

Personally I'd choose Swansea being promoted in the play-off final. I was a neutral, I wouldn't have minded if Reading won the game, but just after the match I was climbing Mount Kilimanjaro for charity with Brendan Rodgers and it was so important to me that he was in a great frame of mind. I knew that trip would be nicer if they won, because he'd be buzzing, so I would have to go for that. It made the climb extra special.
JEFF STELLING (Football)

I was at the San Siro to watch Milan against Tottenham in the Champions League and with about 70 minutes gone Spurs were getting absolutely battered. They were hanging on by the skin of their teeth; I couldn't see them holding out and thought they desperately needed to get another defender on. So I remember thinking 'what on earth is Harry doing' when he turned to Luka Modric, who hadn't been fit enough to start the game. But the instant he got on, Modric got the ball and for the next 20 minutes Milan couldn't get it back. That substitution was a stroke of managerial genius. Modric gave a 20-minute masterclass in how to control a game and I was totally besotted with him.
BARRY COWAN (Tennis)

Novak Djokovic's straight sets victory over Rafael Nadal in the final of the Madrid Open was the defining moment of 2011 for both players and the tennis year. The win - Djokovic's first over Nadal on clay - gave the Serbian the confidence to continue his great run and from that moment he had the mental edge over Nadal, which showed at both the Wimbledon and the US Open finals.
ROB LEE (Golf)

It would have to be Rory McIlroy's win at the US Open. He suffered a disastrous Sunday afternoon at Masters where he looked like a certain winner for three rounds, but he was straight in front of the cameras accepting that things hadn't gone his way. Then he went to the very next major at Congressional, rehabilitated himself and won a US Open by eight shots, which is effectively winning at a canter. There's only one other person we've seen do anything like that - and that's Tiger Woods.BRIAN CARNEY (Rugby League)

Leeds rescuing a Super League of questionable quality with semi-final and final victories that entertained and thrilled fans that were lucky enough to be there and huge numbers of viewers on Sky.
STEVO (Rugby League)

The Grand Final and what a magic game it was with both sides hammering each other and running themselves to a standstill, when Saints took the lead in the second half the Rhinos looked doomed but the man of the match Rob Burrow had other ideas ! What a game he had and proved he's still the best half back in the Super League when it comes to breaking through a defence.
MILES HARRISON (Rugby Union)

Of course, I'm tempted to stay with the Rugby World Cup as that competition inevitably dominated our thoughts in 2011. That Final itself was remarkable, not because of the rugby played, but in that I have never experienced sporting tension quite like that. Also, as a 'Northern Hemisphere man', I was proud of the quarter-final in Wellington between Ireland and Wales and firmly believe that this was the best game of rugby in the tournament. But, my Moment of the Year took place in May. The Heineken Cup Final was a totally unique game of rugby. I have never seen one team dominate for forty minutes, only to then see the other side do exactly the same for the second-half - Northampton v Leinster is my Moment of the Year.
EWEN MURRAY (Golf)

The titanic clash of the then world number one and two at Wentworth in the BMW PGA Championship. Even 72 holes were not enough to separate Luke Donald and Lee Westwood. Not only were they playing for the title, whoever won would be or stay world number one. Westwood held that position at the time and in taking on a devilishly difficult pin position found the water. Donald made the birdie, won, and since taking over the top position on that Sunday has never relinquished it. It is the European Tours showcase event and it was a script from heaven. Two great players fighting to the end.
JOHNNY NELSON (Boxing)

Mitchell v Murray was a wicked fight. It was breath-taking and surprised everybody. No-one knew how it would turn out but it was a great fight. However, the fight with the most razzamatazz and hullabaloo was Haye v Klitschko. I've not been involved in a build up to a fight like that for many years. It was great to see something so big again. It was just a pity how it turned out.
KELVIN TATUM (Speedway)

One of the most remarkable heats I remember was in Torun for the Poland Grand Prix. Darcy Ward was the wild card and in heat 12 - which was only his third ride of the night - he passed Tomasz Gollob and Greg Hancock to win his first Grand Prix heat win. It was one of the best individual rides I had seen all year and he really announced himself on the world stage with that ride.
RICHARD MOORE (Cycling)

Tommy Voeckler, stage 19 of the Tour de France, 22 July. What was Tommy Voeckler doing? That's what we all asked as we watched the rider in the yellow jersey, caught between a rock and a hard place -- actually, a lead group containing Alberto Contador and Andy Schleck, and a chasing group with Cadel Evans -- toiling up the Col de Télégraphe and Galibier on stage 19 of the Tour, which finished atop Alpe d'Huez. He faced a classic dilemma. Should he risk destroying himself to try and catch Contador, or slip back, join Evans, conserve energy? Silly question. This was Tommy Voeckler: Suicide Tommy, as he should be known. He chased forlornly, fruitlessly, agonisingly, probably losing his chance of winning the Tour, or even finishing on the podium, in the process. At times he seemed to lose the ability to pedal and slump forward, as though he might either burst into tears or erupt in fury. It was excruciating to watch. It was suicidal. It was enthralling and brilliant.
KEVIN CADLE (NFL)

My moment of 2011 was Indianapolis finally winning a ball game. You've got a lot of pro bowlers on that team with a lot of pride and it was great to see them get the chance to smile for a week.