Here's to 2012
Our experts and columnists look towards the future and reveal what they are looking forward to in 2012.
Last Updated: 29/12/11 9:28am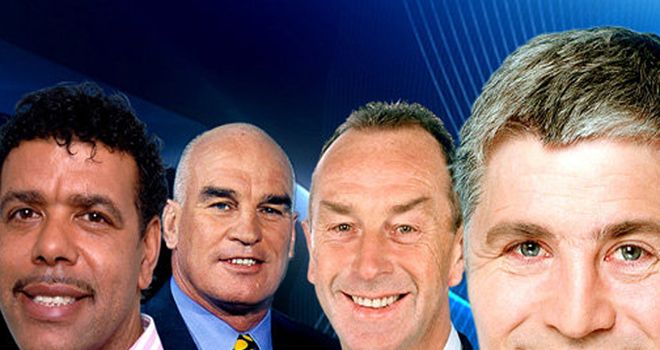 British boxers getting back on track, the Euro 2012 and England taking on South Africa in cricket - our experts and columnists look towards the future and reveal what they are looking forward to in 2012.
PAUL MERSON (Football):

I'm looking forward to the rest of this Premier League season. Tottenham are in the equation now, Manchester United are trying to win it because they're out of the Champions League and Manchester City have started brilliantly. This is the hardest league in the world and the end of the season will be so interesting, even the relegation battle at the bottom. It will be great to watch.
STUART BARNES (Rugby Union):

In 2012 I am looking forward to the return to Test series between Southern and Northern Hemisphere Nations. The three-match series between South Africa and England, New Zealand and Ireland and Australia v Wales will be splendid, as will Scotland's tour of Australia, Fiji and Samoa. That should all be worth watching, especially if the Europeans can produce some decent rugby and a challenge; we can live in hope.
MIKE ATHERTON (Cricket):

I can't wait for England's series against South Africa. India showed this summer how dangerous it can be to build a series up too much but South Africa will be a much tougher proposition. It should be a cracker between the two best teams in the world...
NASSER HUSSAIN (Cricket):

England's bowling attack has been phenomenal this year; they've outgunned everyone. Looking forward to the summer, I can't wait to see them tackle their next big challenge which is South Africa - a side that has a bowling attack to match ours. I'm looking forward to the James Anderson-Dale Steyn blast-off. They are two very similar bowlers - pitch-up, skiddy bowlers who swing the ball at pace who can hit you on the head as well. There is not enough quality fast bowling in world cricket right now, so it will be a real treat to see the top two in the Test rankings take each other on.
BOB WILLIS (Cricket):

I'm looking forward to the August Lord's Test match, when my number one and two Test teams go head-to-head. South Africa may not be officially number two in the rankings, but to my mind they are the second best Test playing country in the world with the best fast bowler in the world by a street - Dale Steyn. I think the Proteas will give England a severe run for their money and it should make for enthralling viewing at the Home of Cricket.
CHRIS KAMARA (Football):

I'm looking forward to the Euros and a chance for England to bury the disappointment of the World Cup. I'm not a fan of a club side any more, I don't show any bias on any game I commentate on, but it's different with England. I was out in South Africa and I now understand what the fans go through now because it was such a disappointment. That was as low as you could get, so hopefully the players can restore some faith with a great Euros.
JEFF STELLING (Football):

I would love it if Hartlepool could secure a comfortable, mid-table finish in League One! I could certainly do without another nail-biting final weekend to the season - I've had enough of those nightmare days to last me a lifetime!
BARRY COWAN (Tennis):

The men's game has never been in better shape in terms of the top four players of the world - but can anyone challenge them? It will be great to see if players like Juan Martin Del Potro and Jo-Wilfried Tsonga can step up and challenge them on a consistent basis and whether a youngster - someone like Milos Raonic perhaps - is able to make a move. Novak Djokovic starts the year as number one - but will he be there come the end of the year?
MARTIN TYLER (Football):

I'm looking forward to seeing who wins the Premier League because at this point in time I don't think there's a clear favourite. Manchester City have had a record start, but this is unchartered territory for them, so I won't say they're favourites and I'm sure Roberto Mancini won't say it either! This title race is very open and I look forward to describing the many twists and turns.
ROB LEE (Golf):

I'm excited about a certain Mr T Woods getting right amongst things once again - and I really believe he will. He's been out of bounds for the last couple of years with injuries and personal problems, but it seems like his knee is finally healed and if he can practice enough then he will be dangerous again. To have Woods on the comeback trail and getting in the mix with Luke Donald, Rory McIlroy, Lee Westwood and Martin Kaymer, golf fans should be in for a stellar 2012.
STEVO (Rugby League):

We unearthed some good young talent, especially the two half backs at St Helens, Lomax and Gaskell and I'm confident England coach Steve McNamarra will offer these two a chance next season (that's if we sort out a schedule to offer more than one international
MILES HARRISON (Rugby Union):

The Heineken Cup never disappoints and we are bound to have more great memories come the end of May. In all honesty, in recent years, some of the international Summer Tours have felt a little flat after all the drama of the club and provincial game season end in our Spring. But, this year, the tours are going to be fascinating. Wales in Australia will be a series well worth watching. England will go to South Africa with a new Head Coach and that will be a story well worth following. And, how will Ireland and Scotland fare on their trips down south? We will have some proper three-match series to get stuck into and, as the World Cup showed, there perhaps should not be too much to fear when North meets South - well, that's the theory anyway. Oh, and England v South Africa at cricket won't be bad either!BRIAN CARNEY (Rugby League):

The year of the Dragon? Could 2012 be the year that our French partners lift silverware and reward a loyal and growing fan base on the Mediterranean? Louis Anderson and Leon Pryce may prove inspirational signings.
KELVIN TATUM (Speedway):

I am looking forward to the GP in New Zealand - it is the first time we are going to New Zealand and it is great the World Championship is going outside Europe. I really hope it is a success. On the domestic front I think we had a super season last year with ten teams in and we have ten teams in 2012. I fully expect us to build on last year's terrific season and I am looking forward to a strong, competitive domestic season.
JOHNNY NELSON (Boxing):

There are plenty of exciting fights to look forward to domestically in 2012 - and that says a lot about the state of British boxing. Carl Froch could step up in weight for a mouth-watering clash with Nathan Cleverly - that would be a dream fight. There's also the prospect of George Groves v James DeGale part two and David Haye coming out of retirement to face Vitali Klitschko. Then there's Khan v Kell Brook, which could be a huge fight towards the end of the year. Held on British soil, it would be absolutely massive. These fights aren't just great for us domestically but are also outstanding match-ups on a world stage - and show the strength of British boxing.
RICHARD MOORE (Cycling):

I'm looking forward to see how the Team Sky dynamics play out, particularly when Bradley Wiggins and Mark Cavendish pair up for the first time, at the Tour de France. Will it be a love-in? Fireworks? Both?
ROD HARRINGTON (Darts):

The game of darts is improving year on year and I think next year we will see more players treating it as a professional sport, rather than something you do down the pub. I'm putting a lot of my time into a new PDC Youth Tour and making it very professional with the playing area totally free of alcohol. I'm hoping that will spread into the pro game.
KEVIN CADLE (NFL):

In 2012 I am looking forward to the NFL being just as competitive and hopefully we will see a little more defence too.