Sky Sports views
See what our experts have been saying on Arsenal, Warren Gatland and Europe's Ryder Cup team...
Last Updated: 04/09/12 7:31pm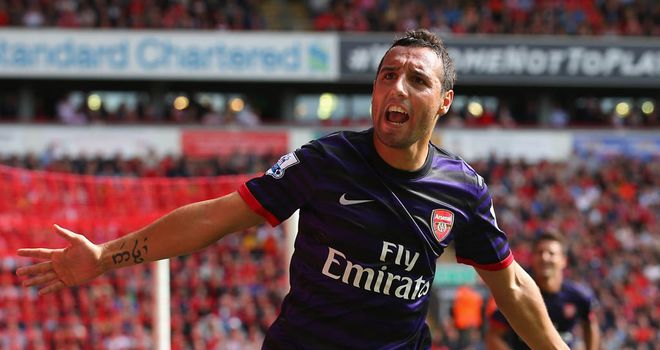 Stewart Robson on Santi Cazorla and Steve Bould
"Against Liverpool, Cazorla got himself in positions between the opposition defence and midfield and kept up picking up the ball, and when he gets the ball he is looking to penetrate all the time.
"He is a good runner with the ball, he is a good passer, he has got a little bit of trickery as well and a good shot on him. He will be important for Arsenal both home and away.
"Arsenal will get the attacking side of the game right and score goals and if (assistant manager) Steve Bould is allowed to coach and influence the side and they defend with the same tenacity and desire and counter-attack with the same confidence that they did against Liverpool, Arsenal can compete for titles."
Stuart Barnes on why Warren Gatland is the ideal man to lead the Lions
"Warren Gatland was the only choice for a couple of reasons; his achievements with Wales over the last four years mark him out as the one with the CV in international coaching in the Northern Hemisphere. But secondly, and I think this is really important, he has got Lions experience; he was basically there as Sir Ian McGeechan's head coach in 2009.
"The way you build an English, Irish, Welsh or Scottish team is different to the way you build a Lions team; with the Lions you don't have long and have to work out a strategy that is pragmatic not theoretical and I think Gatland really understands that."
Iain Dowie on whether young foreign footballers should be classed as homegrown
"If you have come from abroad at a young age like Cesc Fabregas, Rafael and Fabio have done and spend three years in this country under the age of 21, you are classified as homegrown.
"I think that skews the system a little bit and if that rule was taken out it would bring a lot more young English and Welsh players into focus. It is shifting the focus from big-money signings to youth products and I am not sure it is working as well as the Premier League wanted it to."
Bernard Gallacher on the strength of Europe's Ryder Cup team
"The European side is a fantastically strong side - it's probably the strongest side that has ever gone to America. It's led by Rory McIlroy, the world's No 1 player; Luke Donald is not far behind him in the world rankings; and he's closely followed by Lee Westwood.
"You can go down the list and most of the players are winning tournaments; Paul Lawrie won the Johnnie Walker Championship recently, Sergio Garcia won recently in America. So Jose Maria Olazabal is going to Medinah with players that are really on form and that's a real bonus as this late stage."
Click here for more on this story
Stewart Robson on how Tottenham can improve
"Spurs have to play Moussa Dembele in central midfield because they will lack creativity in that area without him; Sandro and Jake Livermore are not going to pick-defence splitting passes. I also think Emmanuel Adebayor is a better lone striker than Jermain Defoe.
"I think Andre Villas-Boas and Tottenham will get it right this season, but the manager has to be given time, just like Brendan Rodgers must be given time at Liverpool."