NBA: Love lost for Minnesota
Kevin Love scored 51 points but finished on the losing side as Oklahoma toppled Minnesota Timberwolves after double overtime.
Last Updated: 24/03/12 6:55am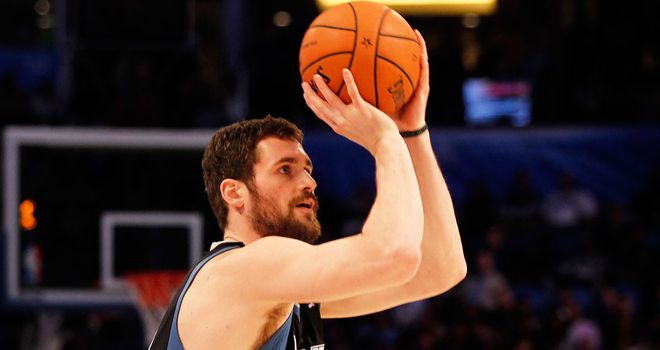 Kevin Love scored 51 points but finished on the losing side as the Oklahoma City Thunder claimed a 149-140 win over the Minnesota Timberwolves after double overtime.
Love also claimed 14 rebounds but his effort was in vain as Russell Westbrook led Oklahoma to victory with a team-high 45 points, while Kevin Durant had 40 points and 17 rebounds.
The teams were tied 115-115 after regulation time, and 128-128 following the first period of overtime, before Western Conference leaders Oklahoma pulled away.
New York's winning streak was halted at five after the Knicks slumped 96-79 on the road against the Toronto Raptors. DeMar DeRozan scored 30 points for the Raptors.
But the Utah Jazz march on, their sixth consecutive win coming at the expense of the Denver Nuggets who succumbed 121-102 in Salt Lake City. Al Jefferson scored a team-high 23 points for the home side.
Success
The Miami Heat made it four wins in a row, Dwayne Wade pouring in 24 points in an 88-73 success against the Detroit Pistons.
Andrew Bynum led the scoring with 28 points for the Los Angeles Lakers in their 103-96 home-court success against the Portland Trail Blazers, for whom LaMarcus Aldridge finished with a game-high 29.
The Orlando Magic overcame the Cleveland Cavaliers 93-80 as their five starters all reached double figures, led by Ryan Anderson with 17 points and Dwight Howard's 16 points with 13 rebounds.
The Phoenix Suns edged out the Indiana Pacers 113-11, with 23 points from Marcin Gortat and 22 from Grant Hill. Danny Granger finished on the losing side with a 28-point haul including four-from-four shooting from three-point range.
Josh Smith's 30 points helped the Atlanta Hawks to a 93-84 win over the New Jersey Nets, who tumbled to a fifth straight defeat, while the Milwaukee Bucks beat the Charlotte Bobcats 112-92 and Elton Brand scored 20 points for the Philadelphia 76ers in their 99-86 victory against the Boston Celtics.
The San Antonio Spurs were too strong for the Dallas Mavericks, prevailing 104-87.