Storm eye final flourish
Surrey Storm captain Tamsin Greenway insists her side have the momentum going into Thursday's Grand Final.
Last Updated: 08/06/11 4:21pm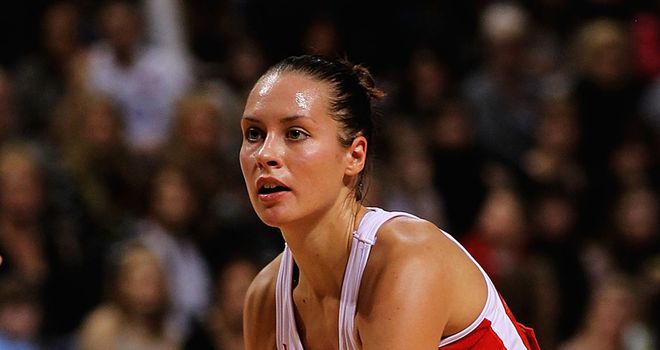 Surrey Storm captain Tamsin Greenway insists her side have the momentum going into Thursday's FIAT Netball Superleague Grand Final despite being underdogs against Mavericks.
The Hertfordshire side finished top of the regular season standings after just one defeat all season and have home advantage for the showdown, live on Sky Sports.
Storm finished fourth and have had to win on the road at TeamBath and Northern Thunder to clinch their Grand Final berth, but Greenway reckons that gives the visitors plentty of reasons to be optimistic.
She told 96.4 Eagle Radio: "There is no doubt we are massive underdogs. It's been a whirlwind couple of weeks to be honest. It's not unexpected, as our aim was to get through to the final at the start of the season. But the way the squad has come on and the teams we have had to beat to get to the final, it's been absolutely fantastic and I'm so chuffed for all the girls and the team.
"After finishing fourth from the top four FNSL teams, we have gone throughout the play-offs as the underdogs. When you look at the quality of the other teams, they have so much experience and international players, but it counts for a lot when you play as a team. In the last few weeks we have been playing as a team with no fear."
Spirit
Greenway believes team spirit could be the key to one more big performance on Thursday. She added: "You've got to go out there and give it a go. Some things will pay off and some things won't, and I think we have just accepted that we do make mistakes, but there is such a faith in the team that we all know we will pull through.
"That's been the difference in the last few weeks, that there's just a belief that at some point it will work out for us and we will come through on top."
Meanwhile, Greenway revealed that Sky Sports viewers may be in for a shock when they see the Surrey Storm bench.
"We had a little bet with some of the coaches about an outfit they would have to wear if we reached the finals," she said. "Our team always play best with no fear and a bit of comedy value so I managed to get hold of this particular outfit and we did a little catwalk show for the girls during the pre-match team talk.
"There were lots of jokes and banter flying around before and the threat of the coaches having to wear this particular outfit must have had a positive effect!"
When asked whether fans could expect to see this 'secret outfit' during the final, Greenway joked, "It's supposed to be happening, and I'm going to be very unhappy if it's not! With the match televised live on Sky Sports 3 they are going to look ridiclulous. It's brilliant!"