ZEO International Netball Tri-Series: New Zealand defeat Jamaica 52-46 at Wembley Arena
New Zealand opened up the ZEO International Netball Tri-Series with an impressive 52-46 victory over Jamaica.
By Razwan Mirza - Tweet me: @RazMirza
Last Updated: 18/01/14 4:49pm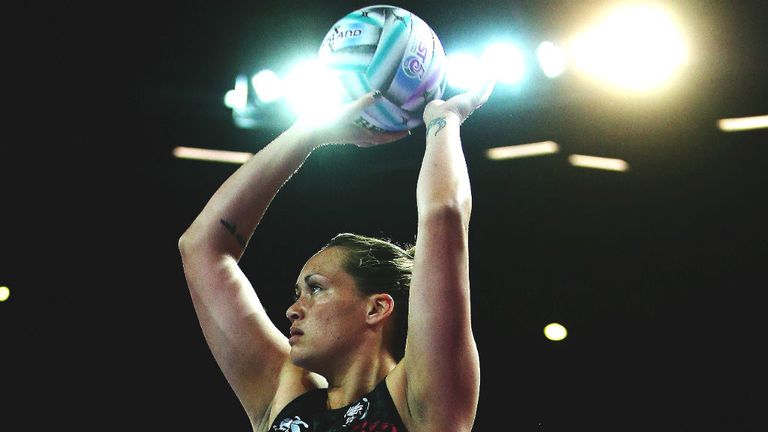 The reigning Commonwealth champions did not have things all their own way but still proved too strong for their opponents in an entertaining, high-octane tussle.
They quickly opened up a 14-9 lead which promoted Jamaica head coach Oberon Pitterson to send on 18-year-old Shanice Beckford for the start of the second quarter.
The Kiwis then upped their all-court defence with a zonal screen to pressurise their opponents in order to gain more interceptions.
However, their attacking game failed to flow as they would have liked with just 75 per cent shooting success.
They still managed to take a six point advantage into the break with a 24-18 lead thanks in large part to some consistent shooting from 41-year-old Irene van Dyk.
More speed
Coach Waimarama Taumaunu injected more speed into her New Zealand side for the start of the third quarter by bringing on Shannon Francois in wing attack, Jodi Brown at goal attack and the towering Cathrine Latu as goal shooter.
The new attacking combination seemed to inspire the No.2-ranked side in the world as their shooting percentage rose to 82.
But the Sunshine Girls were hanging on to their coattails and were just 38-32 behind heading into the final quarter.
The lead was soon cut to three but as the circle opened up with the game nearing its conclusion, New Zealand moved up another gear to complete an opening night win.
Jamaica next take on England at the same venue on Saturday evening, while New Zealand must wait until Monday before tackling the hosts at the Copper Box Arena.
Kiwi changes
Player of the match Laura Langman took positives from the match but expects to see plenty of changes ahead of the England clash.
"It's our first full Test match of 2014 and it certainly highlighted little of things we need to work on," the Kiwi captain told Sky Sports.
"What's great about our squad is that we have lots of competition and that keeps raising the bench mark.
"We'll go back and have a look at the tape, debrief that because the next time we see the team (against England), it will probably be the side for the Commonwealth Games, so yeah, there will be a change-up."
Meanwhile, Jamaica skipper Malysha Kelly feels a change in tactics will be needed as they prepare to take on the hosts on Saturday evening.
"We definitely have to change some of the things that we did tonight and well, they kind of play like us, so that's one of the things we need to look at," she said.
You can watch England take on Jamaica on Saturday evening live on Sky Sports 4HD at 7pm