ZEO International Netball Tri-Series: England beat Jamaica 46-38 at Wembley
England got their ZEO International Netball Tri-Series campaign off to a winning start with a 46-38 win over Jamaica.
Last Updated: 20/01/14 1:26pm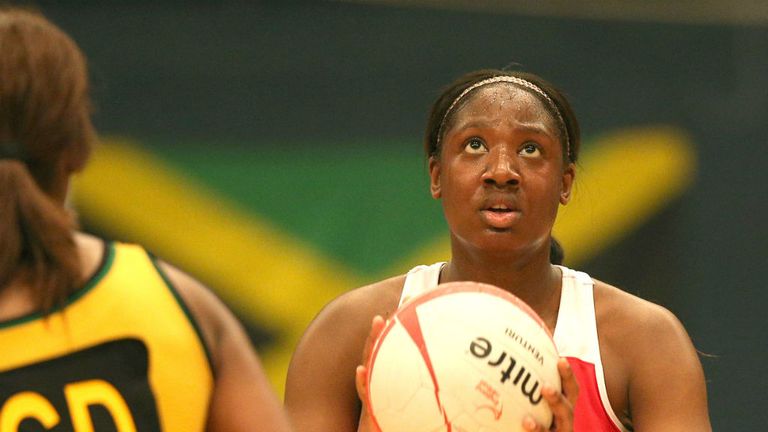 However, although they will be satisfied with the result, coach Anna Mayes and her team will know there is plenty of room for improvement after a patchy performance - especially under the posts.
Shanice Beckford ensured Jamica were first on the scoreboard, but England quickly responded with Pamela Cookey and Joanne Harten putting their side into a 4-1 lead.
However, while England were proving more dynamic through the court and produced far more interceptions than their opponents, Cookie began to struggle after a bright start and her lack of composure whilst shooting meant the hosts could not convert their dominance into points.
As a result, with Jhaniele Fowler finding her range for Jamaica, it was the Sunshine Girls who held a 10-7 lead at the end of the first quarter.
England improved in the second and had grabbed a 20-19 lead by the halfway point, but Mayes had seen enough from the faltering Cookie and opted to replace her with Kadeen Corbin.
The youngster made an immediate impact and, combined with Harten, helped England to take a grip on the game in attack with Harten finding the target to put her side 24-19 after a fast start to the third quarter.
England gain control
It was Harten who struck again just before the final break to ensure England maintained that five-goal margin as they opened up a 32-27 advantage.
England pulled away in the last quarter with Corbin and Harten landing some good shots to see the lead stretch beyond ten, whilst at the other end player of the match Geva Mentor managed to limit the threat of Fowler for the most part.
Fowler did have the last word as she scored the final goal as Jamaica produced a late rally to make the scoreline more respectable, although England emerged as comfortable winners.
However, Sky Sports expert Tracey Neville sounded a note of caution ahead of Monday's showdown with New Zealand.
"It definitely wasn't comfortable viewing, if we look at the score in relation to the New Zealand-Jamaica game the other night it's really positive for England going into their game against them (New Zealand) on Monday night," stated Neville.
"But there are a lot of things they've got to go away and work on, a lot of things they've got to clean up in their game if they're going to beat New Zealand which we want to do going into the Commonwealth Games."
New Zealand also won their opening match of the tournament as they beat Jamaica 52-46 on Friday night.