ZEO International Netball Tri-Series: New Zealand inflicted a heavy defeat on England
New Zealand handed England a 49-32 thumping to clinch the ZEO International Netball Tri-Series at Crystal Palace.
Last Updated: 20/01/14 10:17pm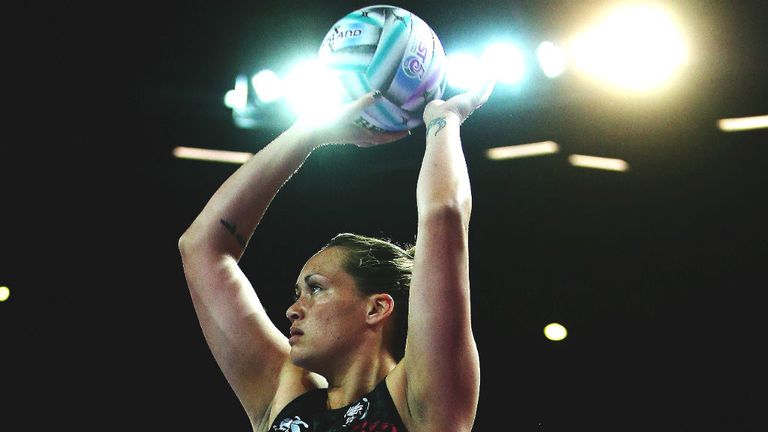 The match had to be switched from the Copper Box to Crystal Palace after the flooring was damaged, and it proved detrimental to the hosts' cause.
Coach Anna Mayes will have been pleased by her side's performance in the opening period as England closing out the first 15 minutes of action with a 13-9 lead.
But the momentum started to turn midway through the second session and it was New Zealand who led 23-20 at half-time, goal scorer Cathrine Latu imposing herself on the game.
They quickly extended the lead at the start of the third period and the England players became disheartened - chief scorer Jo Harten taken off in place of Kadeen Corbin to little effect.
New Zealand went in 39-28 to the good and although England showed some fight in the last 15 minutes, the tourists were well on top with ZEO player of the match Latu scoring at will.
"It was a strange day with what went on beforehand but it happened to both teams and I'm pleased we came away with the win, especially after a patchy start," Latu told Sky Sports.
"I was aided by some of the best attackers in the world, including Laura Langman who played her 100th consecutive Test and deserves plenty of credit.
"There's nothing wrong with a little bit of competition and we need to be pushed, so who better than your own team."
Hesitant
The result is a sobering one for the England side with a view to the Commonwealth Games in Glasgow starting in July.
But they will have an immediate chance to make amends for their heavy defeat when they take on Jamaica on Tuesday night.
"We started well and stuck to the gameplan but I think we became very hesitant in the third and particularly in the fourth quarter," Mayes said.
"We got ourselves within eight goals and then to score one goal after the timeout was extremely disappointing and actually we were turning ball over, and went to pot in terms of decision-making.
"I was happy how Kadeen entered the game and warranted staying out there, but some of our decision making and basic errors and delivery of ball through court were too many.
"We just need to be more consistent and defensively we weren't as solid as we were against Jamaica, so we need to bring our attacking and defensive game tomorrow night."