Sportswomen: Celtic Dragons coach Melissa Hyndman has high hopes for the new season
Netball's Superleague gets underway on Thursday and you can watch Celtic Dragons take on Mavericks live on Sky Sports.
Last Updated: 30/01/14 9:49am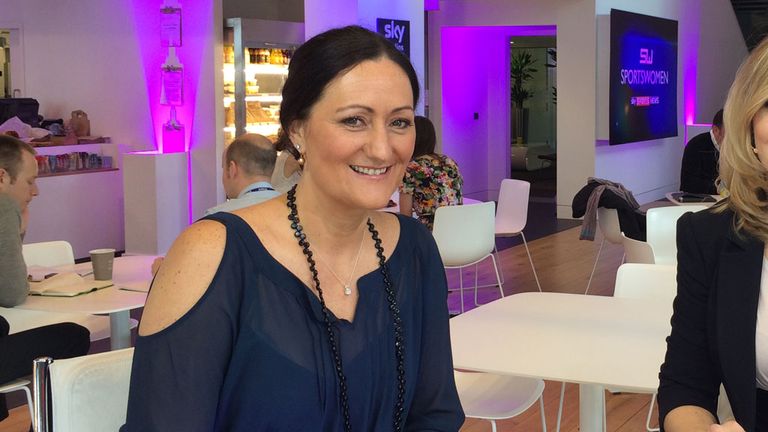 The Dragons are led by top coach Melissa Hyndman and she told 'Sportswomen' that she again has high hopes for the new season.
"The Superleague is the second-most prestigious competition in the world and we are very lucky to have this competition in the UK," said Hyndman.
"It kicks off this Thursday and it's just week after week of fantastic, explosive games, featuring a lot of fit and talented women on the courts.
"We are the only team based in Wales and we have fought hard to stay in the League.
"When I first came in four years ago we were right at the bottom and not doing very well. Maybe one or two games only we would win.
"I wanted to make sure we progressed steadily and we have. We came fifth, then I wanted top four.
"It was a great Grand Final (a narrow loss to Team Bath), which went down to the wire and I definitely want top four again this year."
Cato a key figure
The Dragons star player is Lottysha Cato and Hyndman explained: "When I first landed in this country, I got an email saying 'do you want this player?'
"She had been passed around many other franchises and not picked up. I just read it and saw 6 foot 5 and hit return 'yes, please'!
"She flew out a couple of weeks later and she has been with me ever since, she is almost like a little daughter.
"She has come over from Grenada and it is very different over here. She lives at Sport Wales and I treat her just like one of my own and I suppose, because of that, she has come back each year."
No place for make-up
Hyndman has also had great success with the Welsh national side and is a Kiwi with a no-nonsense reputation which has led to her being branded the 'Fergie of netball'.
Asked about the time she ordered her players to take off their make-up, she explained: "I came from New Zealand and we don't wear make-up (when playing).
"We turn up and we're in sweats and we play the game hard and, when I turned up in this country, people were orange!
"I wasn't interested in what was on top, I wanted to unleash the beast!
"To get players to fly, you have got to inspire and be honest with them. I tell my players 'I'm sorry if I may upset you now and again but, if you want to be the best, you have to be told'. Better to be told by someone who respects you and rates you and knows the game."