Netball: Manchester Thunder beat Loughborough
Manchester Thunder produced a convincing performance to beat the Loughborough Lightning by a 30-goal margin.
Last Updated: 02/03/14 8:23am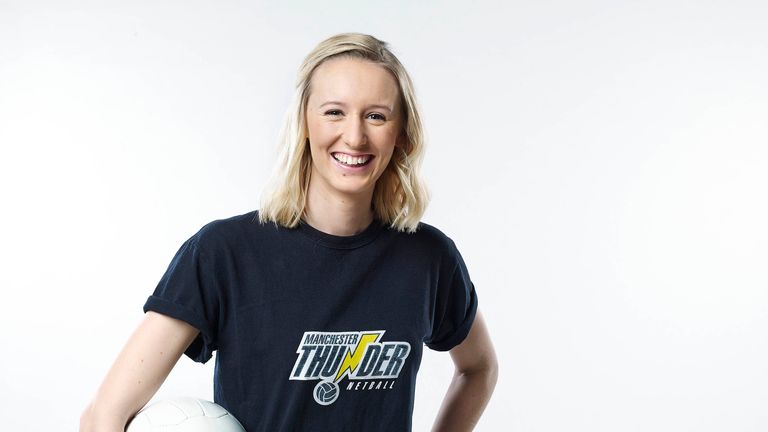 With a stop, start first quarter littered with error and misses from both sides it was Thunder who took an early lead aided by multiple turnovers by Kerry Almond, Emma Dovey and Rachel Henry. At the end of the first quarter Thunder led 13-9.
Head coach Tracey Neville opted to make early changes with Henry moving to her more familiar wing attack position, Cobden entered the fray at centre with Laura Malcolm going off. Thunder still struggling to build a lead as they were missing too many shots. Part way through the quarter shooter Alice Travis called time and was replaced by Krista Enziano, Almond also made way for former Loughborough defender Jodie Gibson. Enziano settled in early with a couple of clean goals, her confidence in looking straight to shoot when she receives the ball seemed to filter through the rest of the team. Thunder started to build a lead slowly but surely and went into the changing room leading 24-15 at half time.
There were multiple changes going into the third quarter with Neville trying more combinations. Captain Sara Bayman was back into her favoured centre role with Cobden moving to wing defence, and youngster Georgie Webster replacing Dovey at goal defence. Kathryn Turner, who hasn't featured much in Thunder's ZNSL campaign so far was introduced at goal attack. Turner, with a point to prove, started well scoring a couple of early goals and linking well with Enziano. Thunder settled into a rhythm early and steamed ahead winning the quarter 20-7, with an accumulative score of 44-22.
Thunder maintained their rhythm into the fourth quarter as they started to pile on the goals, their defence was formidable with Bayman, Webster and Cobden forming what seemed to be an impenetrable line at centre pass. On the odd occasion that the ball made it through Gibson and Webster were on hand to tidy up at the back. There was a quick flurry from Lightning, with three long bombs scored by James but it was too little, too late as Thunder took the points with a final score of 61-31.
Neville commented: "Today I gave people chances and I was disappointed with some people's performances. However, the last seven that were on court were excellent, they put in a great performance that won us the game."
Thunder are back at The Manchester Thunderdome next Saturday at 6pm when their opposition is Team Northumbria.