Surrey Storm secure ZEO Netball Superleague semi-final after Yorkshire Jets Win
Surrey Storm secured a place in the ZEO Netball Superleague semi-finals win over Yorkshire Jets.
Last Updated: 24/03/14 6:29pm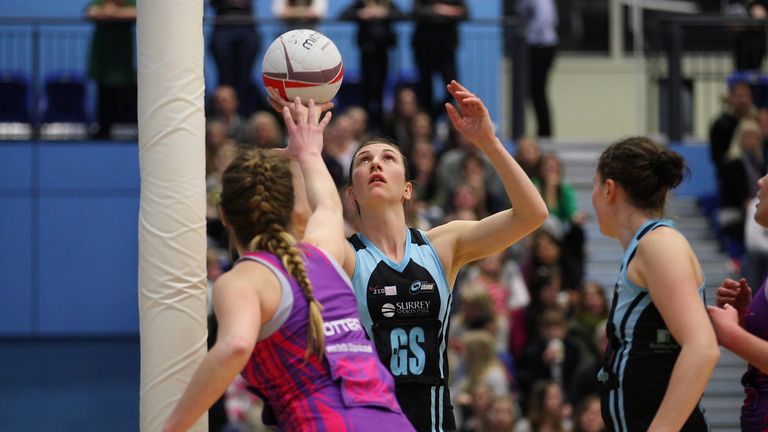 Jets started the game the better side, coming out of the blocks with three quick goals, but Storm quickly turned it around and took control of the pace. A goal-for-goal opening quarter was edged by the hosts with the narrowest of margins, with Surrey leading 15-13 on the break thanks for a late Rachel Dunn goal.
Storm returned to court with a new attitude to the game and began to play with fluency. Defenders Hannah Reid and Katy Holland were feeding successive balls down court to the shooters, forcing Jets to more aggression to the game. A short injury timeout called by Becky Trippick gave Storm the rest bite they needed to pull away late in the quarter, giving them a 31-24 lead at half time.
Surrey opened the 3rd quarter with a quick turnover, which began the downfall for Yorkshire Jets. Young shooter Katie Harris hit the court and settled in well, scoring Storm's first goal of the period. Rachel Dunn once again netted the final goal of the break despite picking up what looked like a nasty knock and aided her side towards a 17 point lead heading into the final 15 minutes.
The final quarter opened with four fast goals for Jets, but Storm quickly thwarted any attempt at a comeback by fully utilising the Tamsin Greenway - Rachel Dunn partnership and scoring with full efficiency in the period. Surrey continued their fight for the ball and finished off the game with a goal, securing a routine 63-42 win and a place in the Superleague semi-finals on Easter weekend.