ZEO Netball Superleague: Manchester Thunder and Surrey Storm through to final
Manchester Thunder and Surrey Storm both came from behind to win their 2014 ZEO Superleague semi-finals on Monday.
Last Updated: 21/04/14 10:49pm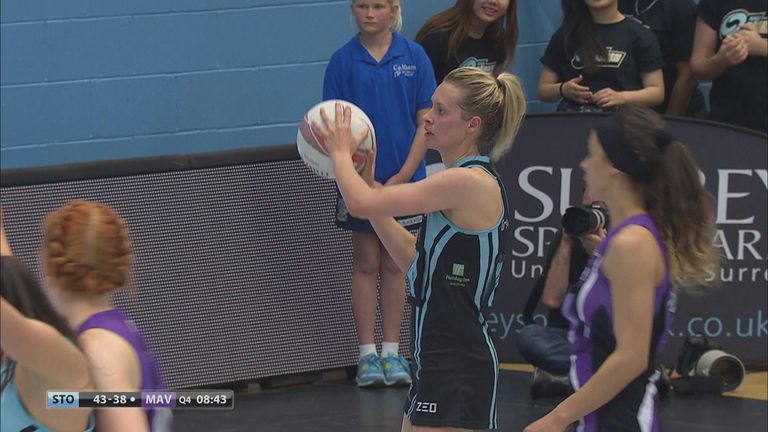 Playing first, Thunder produced a fantastic final quarter to knock-out reigning champions Team Bath 43-37 at the Manchester Thunderdome.
The visitors got off to the better start, leading 14-11 after the first quarter, and still maintained a three point lead at the halfway stage - ahead by 24-21.
But Thunder narrowed the gap to just two points after the third quarter, trailing 32-30, and produced a 13-5 final quarter to secure the victory.
While both sides had a similar shooting accuracy - Thunder with 78 per cent to Bath's 80 per cent - the hosts secured seven rebounds to just four from Bath, which they were able to convert and ultimately proved decisive.
The ZEO Player of the Match, Thunder's Sara Bayman, told Sky Sports: "That was incredible tonight, we knew it was going to be a tight game, we knew it was going to be tough and I don't think even we expected it to be like that.
"I'm massively proud of the girls for the character we showed out there tonight, I think most teams would have rolled over and died.
"Three quarters of the game we spent down and to pull it out in the last quarter is a huge, huge result for us."
Bayman thought Thunder gradually built pressure on their opponents which paid dividends in the second half and she is looking forward to Saturday's showpiece, which is being shown live on Sky Sports 3 from 5.30pm.
She added: "Its massive to have a northern representative in that final and in these semis, and we're really keen to take that title back.
"We won it in 2012 and whoever we get between Mavericks and Storm it's going to be a massive, massive test for us but you know, you've got to be in it to win it so we will look forward to it."
Storm win
In the other semi-final, unbeaten Surrey Storm - who had beaten the Hertfordshire Mavericks by two points on both other occasions they had met this season - took a 1-0 lead in their London derby at the Surrey Sports Park.
But the Mavericks then asserted, and were never behind again in the first half, taking a 15-12 lead in the first quarter and then extending their advantage to eight points at one stage before being pegged back to a 26-21 lead by the midway point, thanks to 31 shots to the hosts' 21.
But, after a tactical change bringing Kat Ainsworth on for Becky Trippick, the Storm started the third quarter quickly, notching five unanswered goals to draw level at 26-26.
While the Mavericks pulled 28-26 up, Storm hit back and finally went ahead once more, leading 36-35 going into the final quarter and then asserting to run out 52-42 winners, with Rachel Dunn awarded the Player of the Match, notching a massive 38 goals from 40 shots, a 95 per cent shooting accuracy.
As well as the tactical switch, Tamsin Greenway's urgings at the break also worked, with the Storm's player/coach revealing afterwards: "I must admit I had my doubts today but I said to them at half-time - 'There's nothing to lose now, it's live-or-die, you've got to go out and just give it your all and you've got to believe' - and I knew tactically we'd got the right thing if we could pull it together. And finally in the second half we got it right defensively and attacking-wise."