ZEO Netball Superleague: Helen Housby reflects on Manchester Thunder's triumph
Helen Housby spoke to Sky Sports News Radio about her Grand Final heroics for Manchester Thunder.
Last Updated: 01/05/14 6:19pm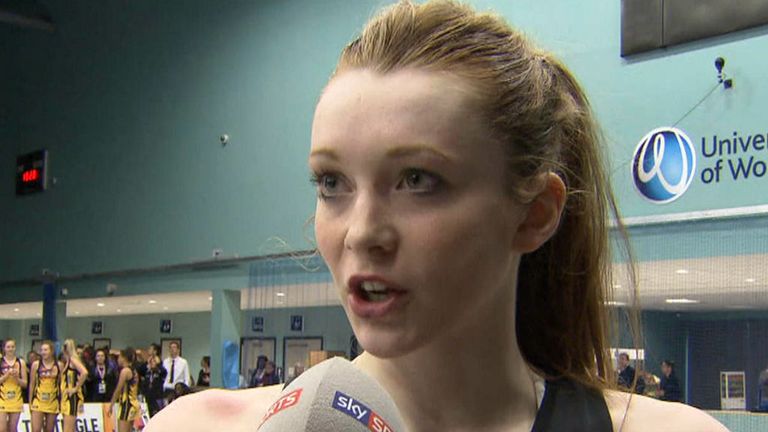 The 19-year-old nailed a sensational winner with just one second remaining on the clock at the Worcester Arena last Saturday to seal a 49-48 success over the previously unbeaten Surrey Storm.
Housby netted 37 out of her 39 attempts - with an overall 94 per cent shooting accuracy - to also earn the ZEO player-of-the-match award, and the student admitted she is still in dreamland after the momentous event.
She told Sky Sports News Radio: "It's been crazy, never had anything like it.
"It's the best feeling I think I've ever had in my life, not just sporting-wise. It's just incredible.
"I think it's even sweeter that they hadn't been beaten all season and we won it just by one, so it was great."
Asked what went through her mind in the final couple of seconds of the game, she replied: "You're just in the game and I didn't really think about it. All I was really thinking about was: 'just give me the ball' and I just knew what I had to do.
"It seems strange but I just didn't feel like it was a moment until it happened and I was just in the game, and then it went in and it got a bit crazy!"
Imagined
But Housby admitted she had dreamed of scoring the winner beforehand.
"On the bus I thought: 'can you imagine if what it comes down to is a big shot or the last shot of the game?' Because I think everybody was expecting with Surrey Storm it was always going to go right to the wire and I don't think anybody was ever going to win it by a big margin so we knew that the last minute would be vital and I did, I imagined it and....I didn't imagine it being that close but yes!"
"It's crazy, it's so crazy, I still can't really believe it, I have to keep watching the videos over and over to make sure it's not a dream.
"It's amazing - I couldn't have actually hoped for a better end to the season and to finish it off in that sort of style is just great.
"It hasn't left my mind at all. My team-mates and coaches are all so buzzing for it and we just keep talking to each other about it, I don't think it will ever leave my mind for the rest of my life honestly."
Housby thought the league runners-up Thunder had peaked at the right time in seeing off reigning champions Team Bath 43-37 in the semi-final, and then beating Surrey.
"I think we've had a really good campaign with Thunder," she said. "I think we've been quite consistent which has been one of the things that we've been trying to work on, especially in training and we've put out some good performances against some top teams before.
"I think we sort of peaked at the right time, especially in the semi-final and final. I felt like we'd brought all of the stuff that we'd been doing well in the season into them two games and I'm just really pleased with the entire squad - and it was a real squad effort because I think every single player on that bench could have walked into that final and could have made a good impact."
On her own future, Housby added: "(I'm hoping to reach) as far as senior level, that's my dream really. I just want to take it as far as I possibly can.
"I've got a lot of hopes for the future but I'm trying not to dwell on them right now, I'm just going to look to the next games and put out some good performances and see where it takes us."