ZEO Superleague - Netball London Live on Sky Sports
Watch Surrey Storm v Herts Mavericks at Netball London Live from the Copper Box on Sky Sports.
Last Updated: 08/03/14 9:01am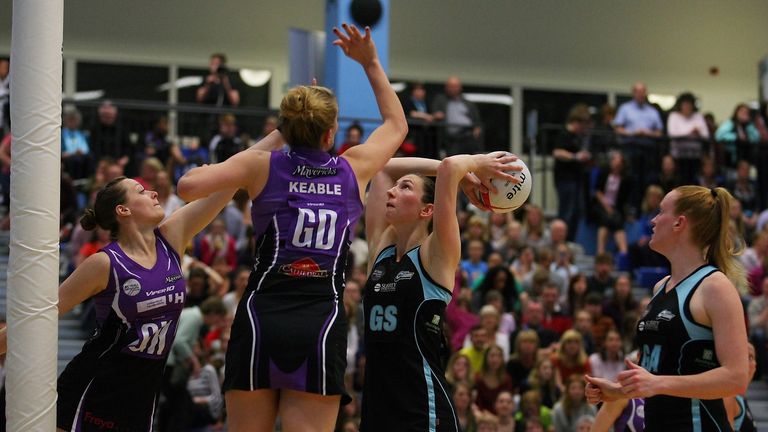 The ZEO Netball Superleague match, set to be the largest domestic netball game in the UK, will be broadcast live on Sky Sports 3 from 5.30pm this Saturday from the Olympic Park's Copper Box Arena.
Battling it out on the court will be fierce rivals Surrey Storm and Hertfordshire Mavericks. Table-topping Storm are unbeaten, while former champions Mavericks have been in mixed form so far in 2014 but with England sister act Sasha and Kadeen Corbin in their side anything can happen.
Speaking of England, Head Coach Anna Mayes will have an eagle eye on her international stars. Mayes told @SkyNetball earlier this week just how excited she is for this game.
"It's everyone's game at the moment, we're not quite half way through the season and we're seeing week to week how close these games are. In fact I feel that this is probably the closest season we've had to date; people are drawing games or beating them by one (goal).
"I think it's really left that top four position open but it's going to be a really exciting game on Saturday."
Storm player-coach Tamsin Greenway - who also writes a blog for skysports.com - said: "It's amazing how much interest there has been in this game and the ticket sales show the growing demand for netball and professional female sport in this country.
"The match takes place on International Women's Day and we're hoping the event inspires even more women to take part in netball and sport."
International Women's Day coinsides with this exciting event so why not celebrate by tuning in to Sky Sports 3 this Saturday evening where Anna Woolhouse and her panel of experts will analyse all the action on Netball London Live?
You can still get your hands on some of the reamining tickets and meet the stars of Storm and Mavericks up close by being courtside. Click here for more information.