Netball: England captain Jade Clarke says ANZ experience fills team with confidence
By Sian Parry
Last Updated: 11/07/14 4:05pm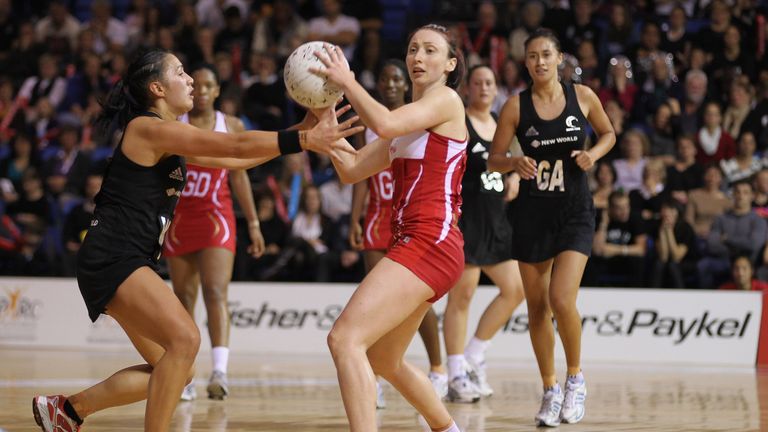 England Netball announced their 12-strong Commonwealth Games squad on Tuesday and a new captain with Jade Clarke tasked to lead the side in Glasgow by coach Anna Mayes.
Midcourter Clarke, who plies her trade with New Zealand-based side EasiYo Tactix in the ANZ Championships, takes over from injured skipper Pamela Cookey, who suffered an Achilles injury in April.
We spoke to Jade, who has been preparing with the rest of the team at University of Bath, and got her views on how experience of playing with and against the world-leading nations will help improve England's chances of improving on their 2010 Bronze medal...
Sky Netball - So Jade, how does it feel to be England captain?
Jade: "It feels amazing. I was really excited and proud when I found out - I just couldn't wait to tell my Mum!
"But it has been bittersweet because our captain Pam Cookey is out with injury, which is a huge blow to the team, but all the girls have stepped up; we haven't just got one leader in the team we're all working hard to get that lift.
"When I think of how I was when I started playing netball – I was very shy and just happy to be on the team at all – now, to be captain is so special, especially at a Commonwealth Games in the UK that all my friends and family can come and watch.
Sky Netball - There are five members of the squad who play in the ANZ Championships, will this improve our chances?
Jade: "It's a good sign for England that English players are in demand for that league. It's the strongest in the world and when you get over there it's like playing an international game every week and that's only going to be beneficial.
"I think we're going to see more and more English player going over there, which is great for the sport. We get to get that experience and play the Aussies and the Kiwis more often than we would at home."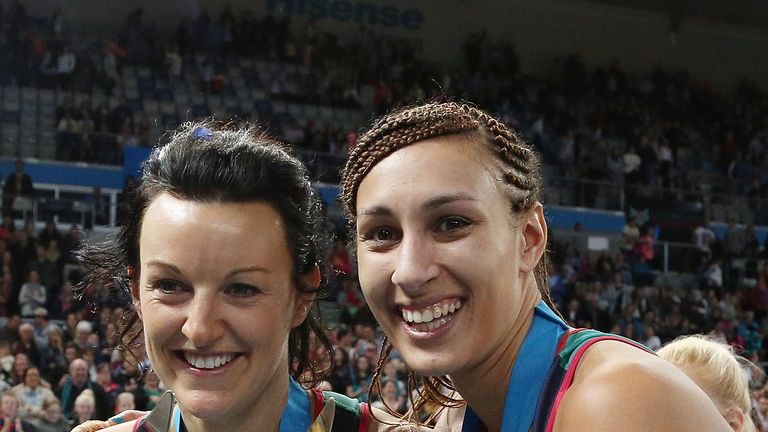 Sky Netball - Jo Harten was named the ANZ's MVP (Most Valuable Player), while Geva Mentor won the Grand Final with the Melbourne Vixens, how important are these two players?
Jade: "It's been great to see Jo Harten grow. I've been with her in the England squad since she came in aged 17, now she's on top of the world and her confidence is sky high.
"It's also great to have Geva back. She's been the top Goal Keeper in the ANZ competition and flew back here straight after her Grand Final win – what's she's contributed to the squad is invaluable and she brings a wealth of experience. 
"The two of them being on-form fills our team with confidence."
England Commonwealth Games squad
Jade Clarke (c), Sara Bayman (vc), Ama Agbeze, Eboni Beckford-Chambers, Kadeen Corbin, Sasha Corbin, Rachel Dunn, Stacey Francis, Serena Guthrie, Joanne Harten, Helen Housby, Geva Mentor
Sky Netball - What's the difference in style between the English game and the ANZ? 
Jade:  "The physicality. The umpires allow a lot of contesting so it's body-on-body all the time – you don't get a second look, there's someone on your back and getting used to that pressure is important.
"You have to get away from the players the whole time – there are no breaks from it. The physicality is getting there in our English leagues but it's not there yet. It's great that we get to go over and experience that."
We look at Australia and they've got so much depth if you look at the players that aren't in the squad, and that's where England are now; we've got great players jostling for positions and we're all really pushing each other.
Jade Clarke
Sky Netball - Helen Housby starred in the ZEO Netball Superleague this season; will the young shooter be an unknown quantity for our Antipodean rivals?
Jade: "They won't have much video footage of Helen, which is a benefit because she can just go out there. She's got nothing to lose and no one will have played against her before - that will give her the upper hand.
"I drove back to Manchester with her and she was telling me that at the beginning of this year she didn't even know she was going to start for her Superleague side [Manchester Thunder], now she's in the Commonwealth Games team. Her story has been a whirlwind; she's a confident girl and is loving every minute."
Sky Netball - Sasha Corbin will be first choice Wing Attack, are you going to be the designated cover for the position? 
Jade: "I wanted to be selected across all three positions [WD, C and WA] and out in the ANZ I've really developed my attacking game and my feeding game. It's something I wanted to bring back and benefit the England squad. 
"I've always been a more defensive player but now I can play both sides and I'll be covering that position as well."
Sky Netball - There's plenty of strength in the midcourt - in the WD and C positions – with yourself, Serena Guthrie and Sara Bayman, it's going to be tough for Anna Mayes to pick between you?
Jade:  "It's going to be hugely tough. I remember when I first got in the squad at 18 and got my foot in the door because we didn't have that many Wing Defences, now we've got so many!  
"There's also Laura Malcolm, who had an amazing trial and just missed out on the squad, but that's how tough it is now and that's how we want it to be. We look at Australia and they've got so much depth if you look at the players that aren't in the squad, and that's where England are now; we've got great players jostling for positions and we're all really pushing each other."
Sky Netball - Are reigning gold medallists New Zealand still the team to beat?
Jade: "We were pretty disappointed with our performance against them in January and we know we've got the players to beat any team but we've got to go out there and actually put on the performance in that pressure situation.
"We are the most the well-prepared team I've ever been a part of and with us going semi-centralised last year, we're putting in the hard work and it's showing – we're ready to go out there and play against ranks one and two and show what we can do."
Sky Netball - Your first three fixtures are Wales, Australia and South Africa in three days, that's not going to be easy?
Jade: "No, we hit Australia early on in our second game, after playing Wales – whose style we are familiar with - but Australia's style is completely different; we're ready for the challenge and I think it's a good thing that we're playing them early on because, to be honest, we just can't wait!"
Sky Netball - With the Games in Glasgow there's going to be plenty of travelling support, how excited are you?
Jade: "The Commonwealth Games are our ultimate – they're our Olympics, but for them to be in Glasgow means our family and friends can get in the car and watch us is amazing. We went to Glasgow in January for a training camp and everyone was really friendly there – there's also a bit of healthy competition between the English and the Scottish – which I'm looking forward to as well.
"We can't wait to get there."