Family value
Louis Smith says his Sky Sports' funding will help him stay at the top - and take the strain off his mum!
Last Updated: 02/11/11 7:51pm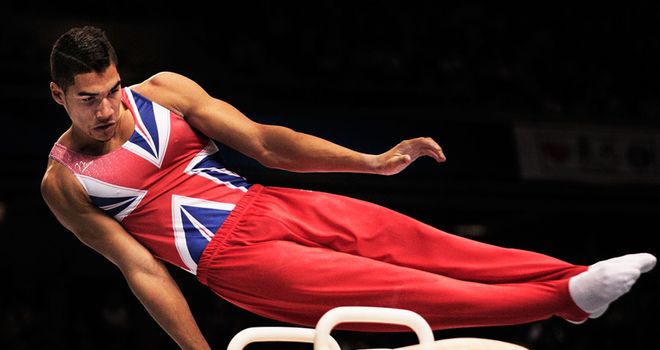 Louis Smith says his Sky Sports Scholarship will catapult him towards more gymnastic glory - as well as taking the strain of his mum's shoulders.
The Beijing bronze medalist is one of 11 athletes to be given funding to help them fulfil their potential thanks to a ground-breaking new scheme.
Smith is one of British sports success stories already, but admits that the scholarship will help him focus on achieving his goals without relying solely on his mum, Elaine Petch.
The 21-year-old is from a single-parent family and while he knows he is not the only athlete, successful or otherwise, to find life hard, he admits he could not done it without his mother's help - until he was awarded a Sky Sports Scholarship.
"It makes my job that much easier," he told Sky Sports News HD.
"The fact that I can just concentrate on what I do and not have to worry about getting to training.
"I do 300-400 miles a week alone on travelling and the fact that is now eradicated, is paid for, just gives me the best chance of doing what I need to do - which is train full-time.
"It was tough for me. Mum's a single parent and we didn't have the most growing up so it's been hard to focus on what I need to do most of the time. But now I'm in a fortunate position where I can and it really does make my life a lot easier.
"I was kind of a problem child but she's been fantastic. I definitely wouldn't be here without my mum. She's sacrificed so much."
Mum's sacrifices have certainly paid off.
Since bursting onto the international scene in 2006 at the tender age of 17, Smith's skills have seen him become a major force on the pommel horse.
He won Commonwealth Gold that year and followed it up with a bronze at the Beijing Olympics to become a household name. He struggled through the preliminaries at the recent World Championships in Japan but, after attempting the most difficult routine, returned home with another third place.
Smith though, is determined not to be a flash in the pan and insists the Sky Sports Scholarship will enable him to make sure his standards do not slip.
Distractions
"It is tough," he said. "So many athletes are in the same boat, but I really do think that's what makes champions, the ones that can disconnect from the distractions and focus on what they need to do to get stay at the top.
"It's not an easy road, you do hit a lot of challenges and upsets along the way but you bounce back and keep doing what you love doing, which for me is gym.
"Training is the hard part, the bit we all dread and don't like. But the relief of doing a competition clean knowing that you've done eight, nine, 10 weeks of hard, hard grafting really is the best feeling - and to be able to walk away with a shiny medal."