Aqua Sphere Phantom
Aqua Sphere have raised the bar with their Phantom wetsuit.
Last Updated: 01/06/12 7:47am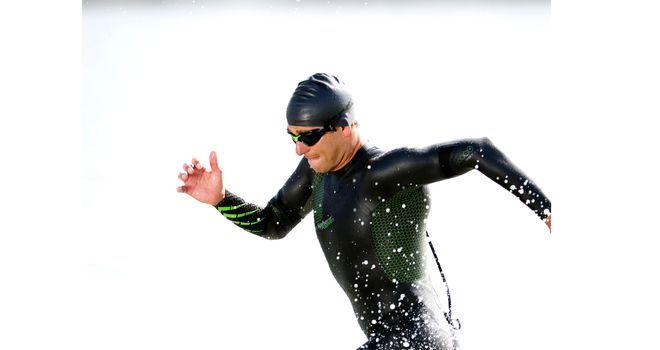 Is there anything worse than getting some new gear and not being able to try it out? All summer the Aqua Sphere Phantom has been hanging in my cupboard as one injury after the other denies me any swim time.
Thank heavens for the Indian summer though and with my third cast finally off my arm and all clear from the doctor to resume training, I gleefully head for a swim.
I've spent a long time staring at this wetsuit and dreaming of pulling it on. I am not sure I can do it justice - heck even if I had not been in the water for close to six months I doubt I could do it justice. It promises to be fast and we all love fast don't we.
The Phantom is light and easy to put on. Too many years of playing rugby means the shoulders are battered and in the past I have found wetsuits cause some problems. The Phantom is incredible around the shoulders - the most flexible I have ever had and I have no problem getting it over my 'winter form'.
The Core Power system intrigues me. It reminds me off a weightlifters belt that is inside the suit and encourages good posture by supporting your core area. I'm a bit worried that I will need someone to help cinch me in, but I am pleasantly surprised how easy it is to get on.
No matter how great it looks and how comfortable it is on land, the real test is how it performs in the water. Once again I am amazed by the flexibility around my shoulders and I am very aware of how much my core is engaged. The pace is steady and easy and I feel like I am going pretty well despite having only been back swimming for a week.
Over the next 10 days I manage to compare my mile swim times using the Phantom, my old wetsuit (less than a year old) and without a wetsuit. The Phantom is definitely the quickest of the three and I find I find myself keeping my form much better which is ideal for the long swims I like to do. The comeback is slow but I feel I will be well within reach of a PB once I am at full fitness.
The Phantom is also very quick to get off thanks to the longer zip which helps you sort out the Core Power system as quickly as possible. I also had no problems getting it off my ankle and wrists - despite my one wrist still being badly swollen.
This a superb wetsuit, well made and with some very impressive innovations. While it is targeted at Elite and faster swimmers, I believe anyone who invests in the Aqua Sphere Phantom will be very happy indeed.
Locker Room rating: 5/5