Drink to that!
From explaining the key skills involved to outlining a training regime, British No.1 Paul Drinkhall gives Sky Sports a guide to table tennis
Last Updated: 20/02/13 7:12pm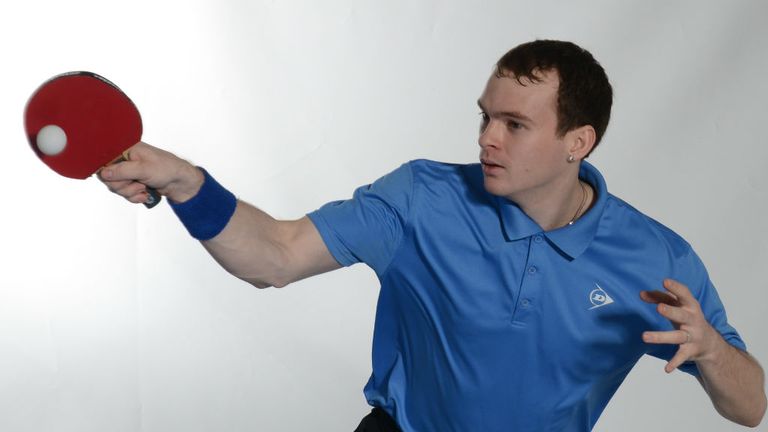 British No.1 Paul Drinkhall gives Sky Sports an in-depth guide to table tennis, explaining the key skills involved and his training regime. Team GB 2012 Olympian Drinkhall, who uses Dunlop table tennis apparel and equipment, also outlines the rules and gives an insight into his route into the sport.
Passion
I used to be fairly active when I was young. I played a lot of tennis and, obviously, football. I played competitively with my brother. We once went to watch my grandfather play table tennis in a local league. My brother and I started playing and carried on from there. It was good that we had the opportunity and our parents were willing to take us. I am not sure I would have necessarily asked to play. It is good that Dunlop are supporting the sports.
How does the sport work?
It is the first to 11 points, with two serves each. If it gets to 10-10, you have to win by two clear points on alternate serves. People say ping pong is not different to table tennis but it is. In ping pong, there is a rule which means the ball must hit your side of the table before hitting the side of the table of the opponent.
Key skills
Hand-eye coordination is a must, as with any racket sport. Fast reactions are also essential. But it is also important to have patience. There are different styles in the game and some players are attackers while others are defenders. Games can last for a long time so you need to work on your tactics. Players must have stamina as well. Tournaments can last for two weeks, playing two or three matches a day and matches could last for an hour. Cardiovascular fitness is also important, despite it being a small table.
Training
I have moved out to Germany to play full-time in the Bundesliga. I play five or six times a week and that involves about four hours-a-day of playing. Away from the table, normally in the morning about two or three times a week, I will do circuit training of push-ups, dips, leg raises and sit-ups, for example, to work on body strength. I will also do two or three runs a week of 20-minute interval running to 25-30 minutes of fast-paced running.
Rivals
China are the biggest rival for everybody. At some tournaments, if someone is beating the Chinese, everyone wants them to win. The Chinese are dominant. There have been occasions when the Chinese have lost, such as the women in the World Championship a couple of years ago. But China are the people we need to catch up and beat.
Schedule
There is the National Championship at Ponds Forge in Sheffield at the beginning of March. The Commonwealth Championship then takes place in India in May. May is actually a big month, as there is also the World Championship at the end. In September, there is the European Championship. I will have a little break in the summer but I am also getting married, so 2013 is a busy year.
British No.1 Paul Drinkhall trains and competes using Dunlop table tennis apparel and equipment which is available at www.sportsdirect.com