Row around Britain!
Sally Kettle tells skysports.com why her next rowing race terrifies her.
Last Updated: 29/05/13 4:43pm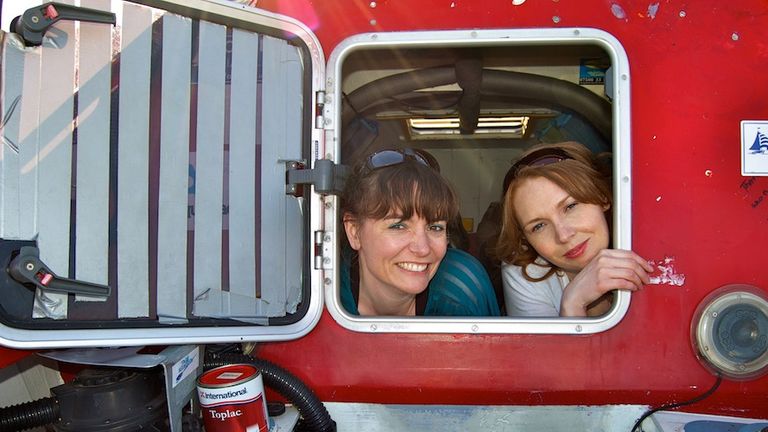 Sally Kettle is no stranger to rowing oceans but even the Guinness Book record holder is having sleepless nights about her Great Britain rowing race.
On the 1st of June 2013, Sally and her rowing partner Charlene Ayres will line up in their boat Pendovey Swift near Tower Bridge with five other teams to race 2,000 miles around the British mainland.
Sally became the first woman to row the Atlantic twice from east to west and it is almost ten years since she attempted her first Atlantic row with her boyfriend in 2003. That trip almost never happened after he had to pull out due to illness. However Sally soon found out where she got her adventurous streak from when her Mum - who had never rowed before - stepped in to take his place. Three years later Sally was back in the rowing boat, this time as part of a team of four that also succeeded in getting across the Atlantic - despite one member being airlifted off their boat with a back injury.
The 36-year-old had thought she had hung up her oars for a while as she focused on other projects but a SOS from novice rower Charlene saw her thrown back into the boat with only eight weeks preparation - which certainly gave her a feeling of deja vu.
"I had spent all this year messing around wondering what to do and then got a text message from this six-foot Amazonian women from Cardiff who said her boyfriend has just dumped her and she was desperately looking for a partner, did I know anyone who would go with her?
"I thought, let's do it! The irony is that ten years ago my mother stepped in at the last minute to help me. I have had the same time that my mother had to train - eight weeks! It has all come round full circle.
"I feel the same way that she must have felt, totally under prepared but trying to put on a brave face and trusting that Charlene has managed to do everything. I'm terrified!"
Despite being thrown together at the last minute, Sally and Charlene look like the perfect match and Sally says she is looking forward to Charlene's enthusiasm getting them through some rough patches - especially in the first two weeks.
"Charlene has been training for this for 18 months and is very well prepared but she is inexperienced," added Sally.
"So we are both bringing something to the boat - my experience and her enthusiasm. She is extremely excited and I am extremely anxious. The first two weeks are always the worst; you are anxious, tired and not used to the boat yet. There is so much going on and you can easily make mistakes in the first week."
Safety first
The GB row may be a race with a £100,000 prize for the first crew to beat the fastest-time record of 26 days 21 hrs 14 mins, but Sally insists that their main priority is getting the job done and says the mind-set for them is safety first.
"We want to get around - so few people have managed to do it and for us it is safety first. I would not have said that on my second row, yes safety was important but my priority was to win that second race.
"I went into that race with a completely different mind-set; I don't have that mind-set this time. This is very much looking after ourselves and if in doubt then anchor out.
"It is more dangerous going around Great Britain than rowing an ocean. When you are rowing across an ocean you have swathes of sea where you can make as many mistakes as you like and are able to get away with it. You don't here. There is so much that can wrong but we have many safety precautions in place to make it as safe as possible.
"Heavy traffic areas like Dover will be especially dangerous. Portland Bill will be a big test for us - it is very scary and so is Land's End. The Irish Sea is busy and the potential bad conditions could pose a problem, and then up near Scotland it also gets scary. However by then - if we have got that far - we will be comfortable with the boat, in a routine, and know our capabilities. I am not so concerned about that - it is the first bit that we need to get through.
"This is also going to be different in the sense that we won't have someone rowing all the time. The tide is against you for six hours. We will have to put the anchor out as there will not be enough of us on board to grunt it out when we are against the tide."
Emotional rollercoaster
As we finish up our coffee, Sally is presented with flapjacks by South Street Cafe to help her and Charlene fuel up and talk soon turn to treats out on the boat.
"These will be fantastic but I must not mix them up," explains Sally.
"Charlene is allergic to butter so a batch is made with vegetable oil. As far as food goes we have so many treats out there that they don't really become treats anymore. A treat is a phone call home, or a nice letter that you have saved for a special day.
"Seeing someone come over on a rib and wave - but that can also have an opposite affect - you get super excited to see them, then they go and you realise how lonely you are - especially when you are rowing on your own. Rowing with other people can cause different problems too; you have to deal with your and their emotional roller coaster.
"Sometimes your own space is quite hard to be in. The biggest argument I had with my Mum - and we didn't have many - was that we were lonely when we were rowing. When she was rowing I was in the cabin. We ended up having an agreement that during the day we would sit out on the deck with each other -we didn't have to talk all the time, but just being there, reassuring each other that it is okay. I don't know if that will be the same with Charlene or not - we will only know once we get out there.
"What has always helped me get through though is always being kind to each other, to put your team mate before yourself. That is sometimes really difficult for people to get used too. I had some difficulty relaying that to the team of my second row but it is those little thoughtful things that make a massive difference. You are constantly engaging on the other person's needs rather than your own."
And of course there is just one final question to ask: what does her Mum think of her latest row?
"She doesn't know it yet, but Mum's on standby - but we will be calling her from Hastings!"
For more information on Sally and Charlene's row visit http://sall23.wix.com/coastgirls